Tune in to HGTV & Discover+ this weekend: Celeb Event Producer Yaz Quiles joins NEW Design Competition Series, Table Wars with Martha Stewart & Tamera Mowry-Housley
Press release
Artistic visionary Yaz Quiles will battle it out with the nation's most brilliant designers on Table Wars. The show is HGTV's colorful new extreme tabletop and special event design competition series, celebrating the unrestrained imagination and breathtaking creativity displayed by eight top designers. It all kicks off starting Friday, November 12 on Discovery+ and Sunday, November 14, 8/7c on HGTV.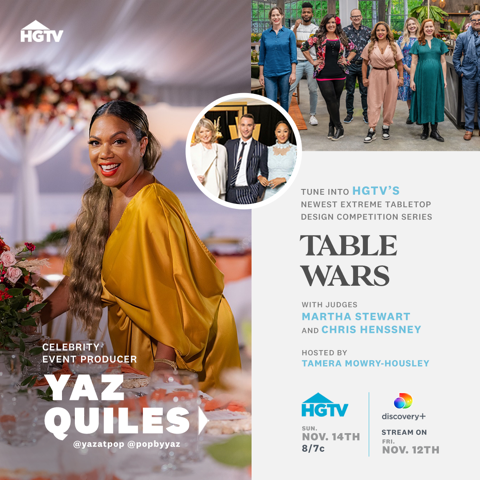 The seven-episode series will feature innovative exhibitions that must pass muster with lead judge Martha Stewart and Table Wars host, actress, design enthusiast, and Emmy® Award winner Tamera Mowry-Housley. Chris Hessney, an acclaimed luxury event planner and designer, will complete the judging panel.
Quiles will use her arsenal of skills, honed over two decades, producing dream celebrity weddings, award-winning consumer events, and luxury experiences under her award-winning Pop! By Yaz agency.
Her signature touch often showcases her wow-worthy positioning through her Afro-Caribbean heritage, as she consistently pushes the boundaries of design innovation.
Yaz Quiles knows how to rise to any occasion ––glamorously. Her launch of Pop! Igloos, an intimate private outdoor venue experience created to service her clientele at the height of the pandemic restrictions, is but one example of her propensity for thinking on her feet.
"Celebrating life's special moments also means embracing its surprises, hence why I knew I had to reimagine intimate gatherings by creating a chic and immersive experience for home and businesses, which also stylishly met safety standards," added Quiles.
Yaz Quiles (Jersey City, NJ), alongside talented rivals Carlton Lee Jr. (Atlanta, Georgia); Wilfredo Emanuel (Naples, Florida); Rachel Burt Garcia (Plano, Texas); Brian Morrow (Orlando, Florida); Stephanie Munson (San Francisco, California); Jenevieve Penk (Little Egg Harbor, New Jersey); and CeCe Todd (Birmingham, Alabama)––will each be vying for the Table Wars title and a $50,000 cash prize.
Watch Table Wars Sunday, November 14 at 8|7c on HGTV or stream it starting Friday, November 12 on Discovery +. Visit HGTV.com and follow Yaz Quiles via @YazAtPop for show updates.
YazQuiles #TableWars #TeamYazTableWars