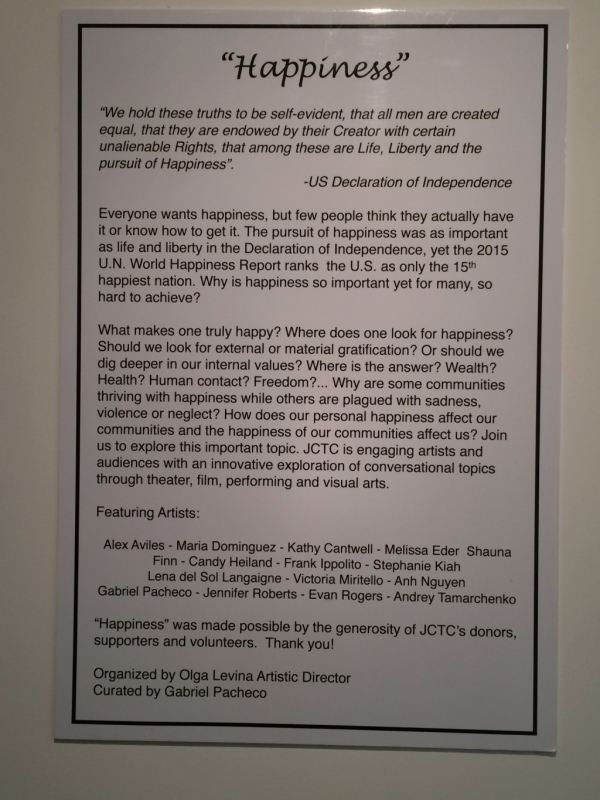 Each person during one time or another will experience the utmost of grand happiness and the lowest form of sorrow. In most cases—it can be found that there is more focus on what makes a person depressed as opposed to what makes them happy. Yesterday evening was the opening reception for the Happiness art show: an exhibition which features a particular piece of happiness for each artist.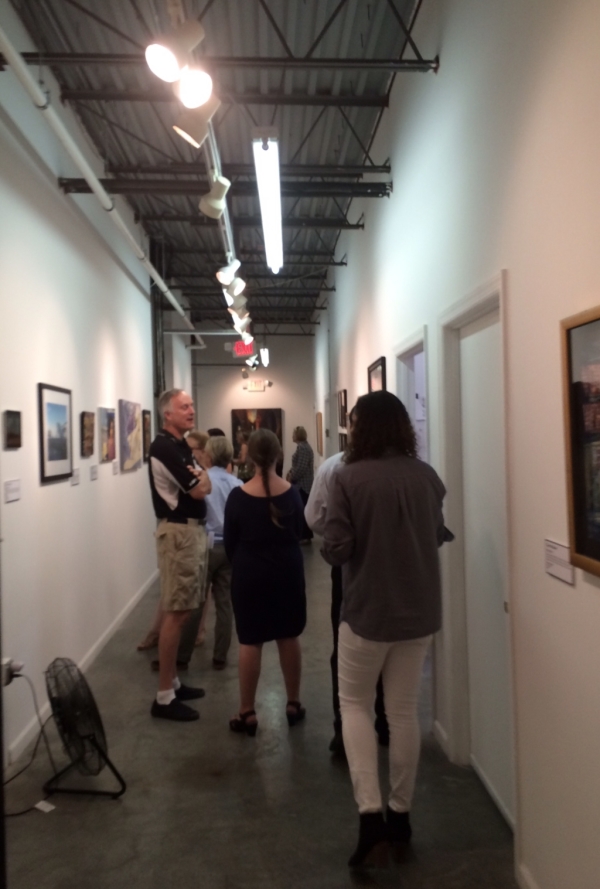 Two strategically opposed walls held the work of both participating and resident artists of Merseles Studios. Curator Gabriel Pacheco explained his view on happiness, "Things that embrace you—family, home—making the difference make me happy. We just put up the show last night and each artist contributed to what happiness could be."
Pachecho explained that each work of art was one piece to a bigger power of happiness.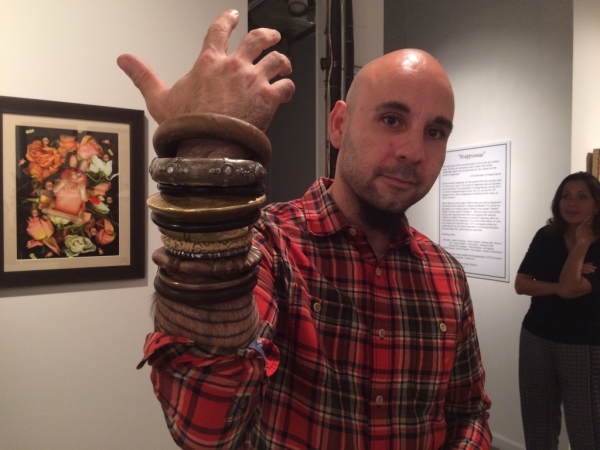 Resident artists like Lucy Revetto and Jennifer Roberts have used the time in leading up to the opening reception to really explore and experiment with their work.
Revetto explained the journey she has been on within the past year, "This has been a year of experimentation to just allow myself to be a professional artist. For example, the crying baby has followed me—the aggravation, the uncertainty, myself as the baby through the year until the baby got comfortable."
Lucy Revetto, resident artist.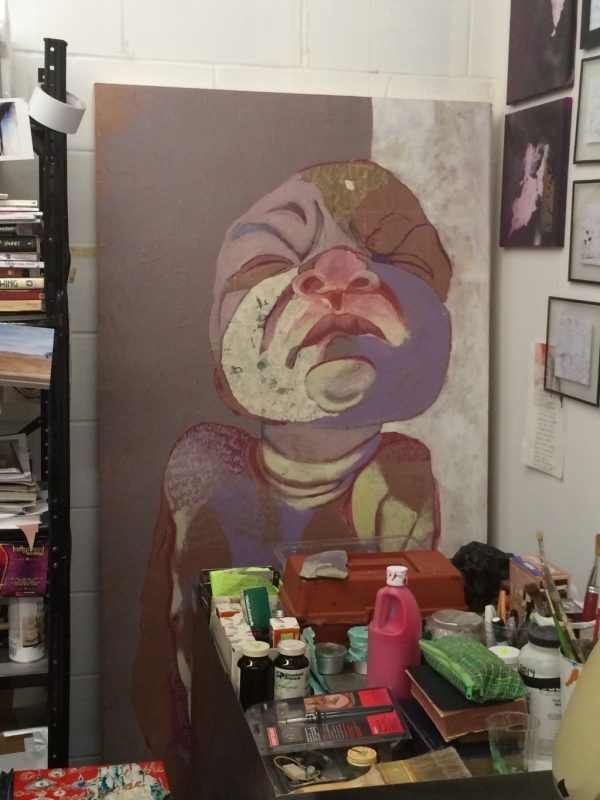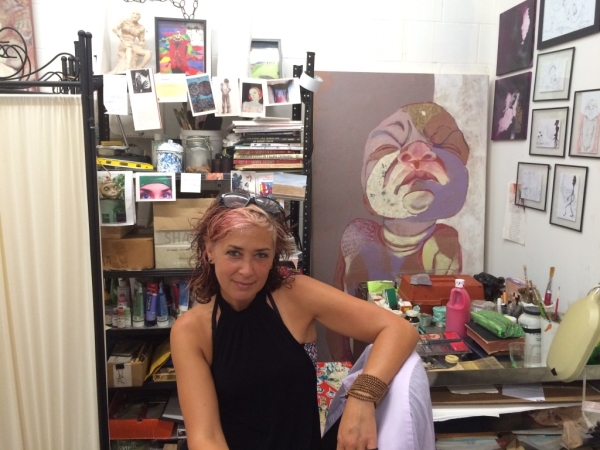 "Happiness is an internal more than an external. You can have all kinds of things and not be happy. I'm just enjoying the ride. The light is a reflection of a specific time in the composition in each painting. I don't work from photos I just make adjustments to the objects which have become characters from my personal life," said Roberts.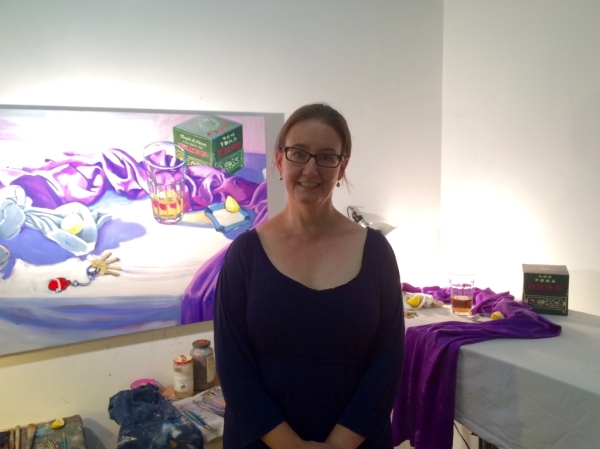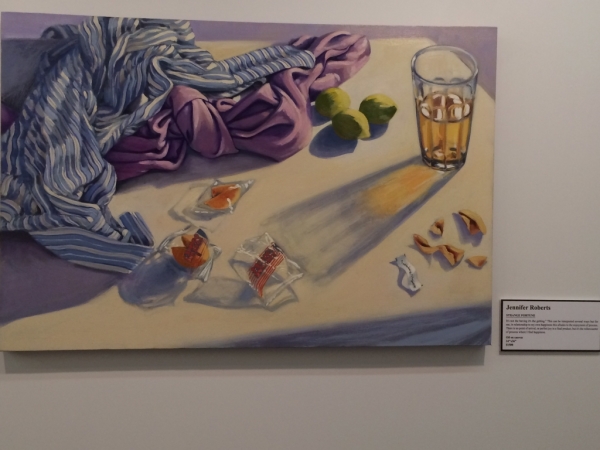 With each artist having on display their pieces of happiness—I found myself continually attracted to Kathy Cantwell's "Staccato" which is encaustic on panel. Each brushstroke made me think of the hundreds of thousands of things that have made me happy.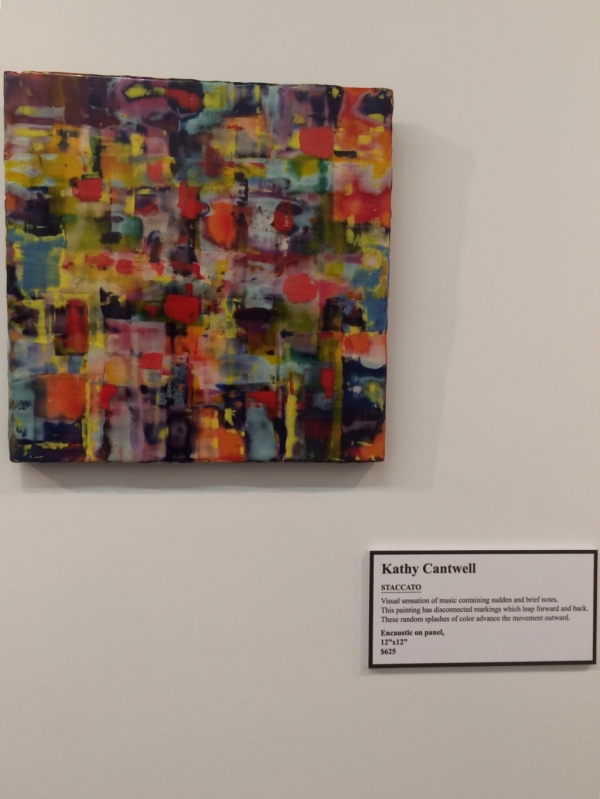 When speaking to Cantwell she explained that a day with a lot of energy and productivity is what makes her happy. "The work I'm showing today is a little older, maybe a year old. It's related to happiness, it's kind of [a] projection of color. Visually, happiness comes in bits and pieces and I painted in bits and pieces as well."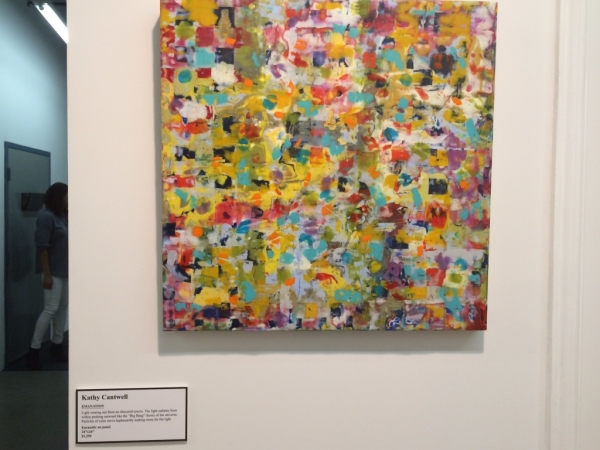 Of Cantwell's work Pacheco said, "Cantwell brings me back to getting crayons as a kid. The work is so diverse with artists using found material, digital, carving, pastels, oil, college."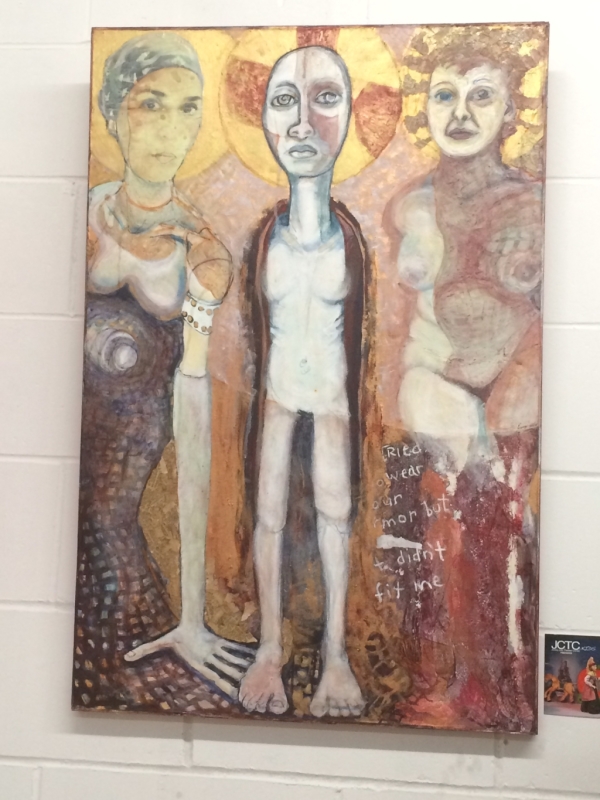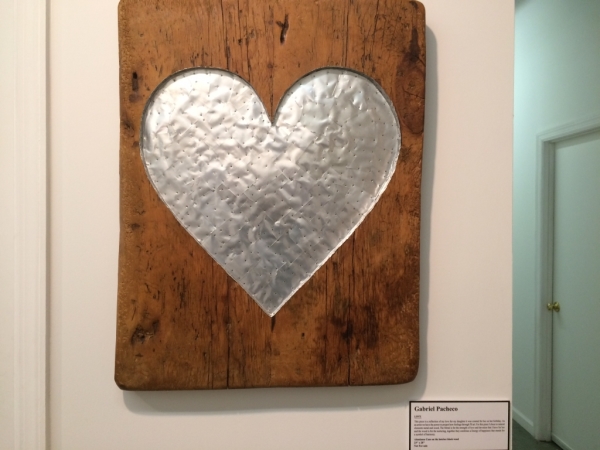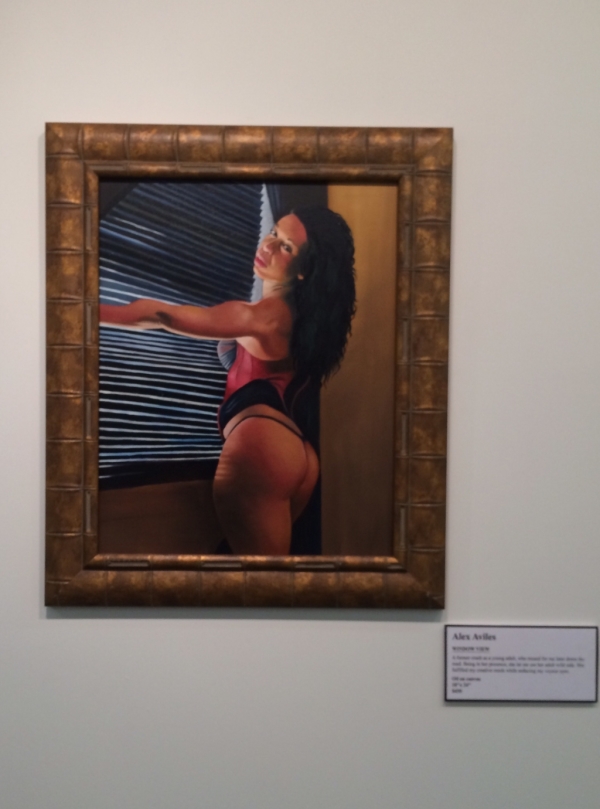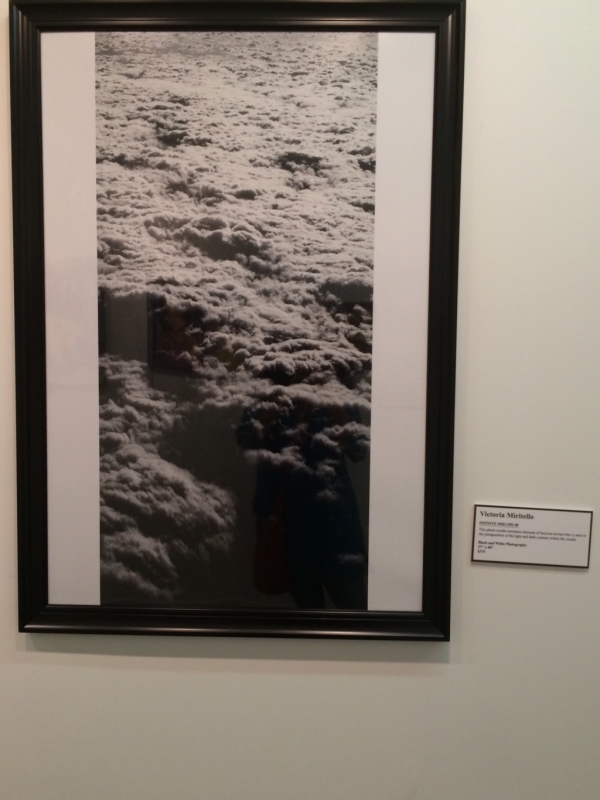 Crowds filtered into the studio with a range of emotions on their faces. It could be seen that each spectator was viewing each work of art in the moment.
Photographer Victoria Miritello managed to capture her idea of happiness in the clouds. "It's euphoric. This is really Mother Nature attributing beauty and magic to the day [to] day."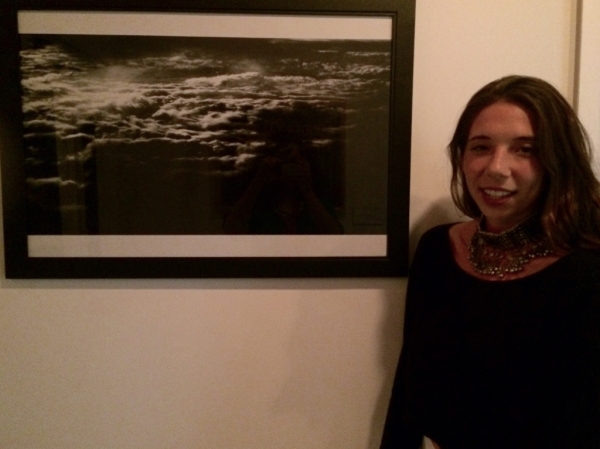 Also present was Playwright Lia Romeo. When interviewed she spoke about the worldwide premiere of her play American Dreamers. "I love that my play is part of the dialogue [Happiness] and I hope that it speaks to an audience that isn't a typical theater audience. My play is about young people who don't feel a part of the successful New York world. It is about what it means to be an American right now.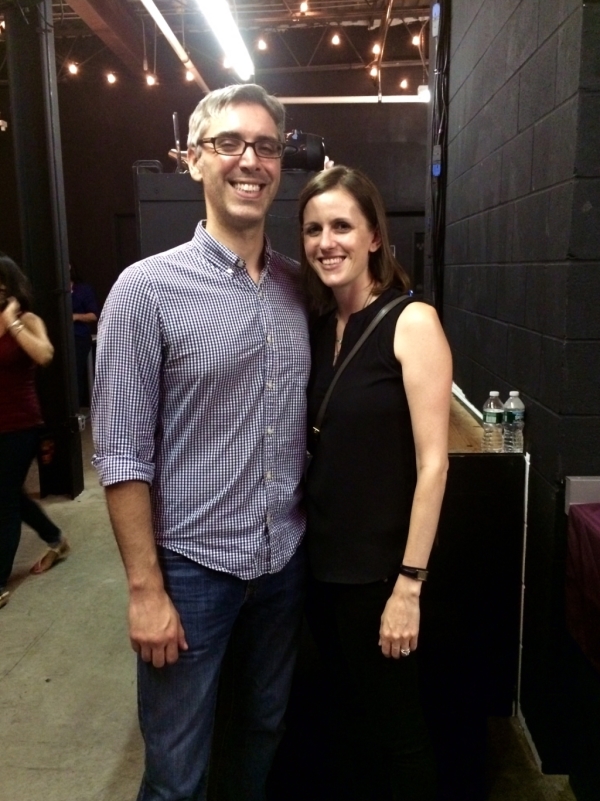 Artistic Director Olga Levina explained the growth of the nearly interconnected series that has been featured at Mereseles Studio. "Last year, we did a show called "Justice" [and] it went extremely well. We had a play, a conversation on the topic of the show which was curated by Gabriel. I saw how people were coming together and connecting.'
'[We] wonder what makes people sad and depressed about the world and at the same time we are still united, strangely. When choosing the topic, we wanted to united people [in] being positive and in the moment. Living in the moment. That is happiness." She said.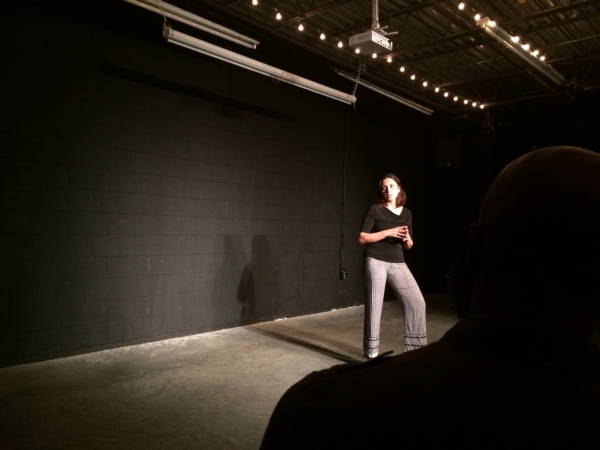 The evening proceeded with a lecture and workshop on happiness called "Happiness Factors" by Leah Guy. In this workshop the audience was able to explore a range of techniques, from prayer to meditation in order to release and find inner happiness. The reactions were extremely varying, from some members being in tears to others leaving with a sense of euphoria.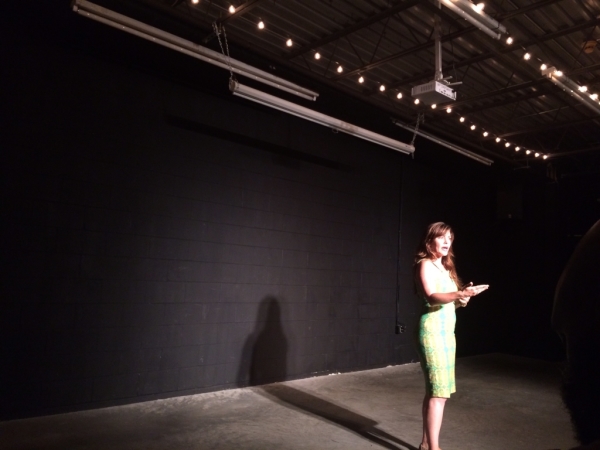 To a silent audience Guy explained that "The way to peace and happiness is right here, right now."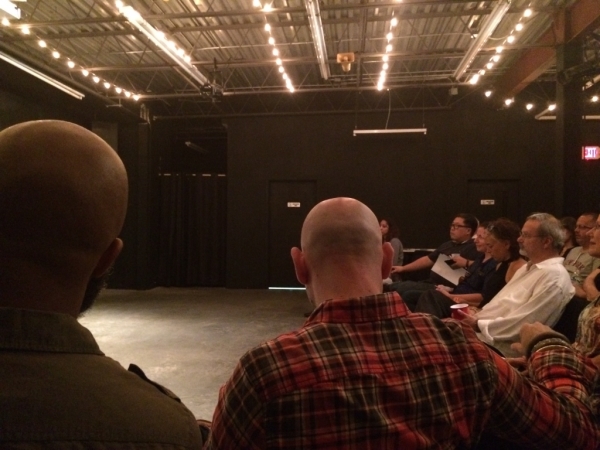 The finale led to an excerpt from Anthony Wills Jr.'s upcoming performance of The Happiness of Schizophrenia.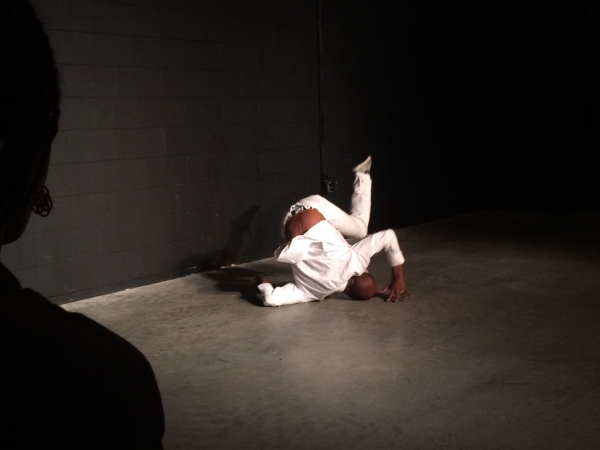 With artists and an art loving community all bunched in one, happiness was easily spread and should continue to be spread. The gallery show is free, open to the public and available for viewing throughout the entire Happiness series.
In addition to 9/4 opening & reception, the Happiness Art Show will be open to the public during 9/11 JC Fridays (5:30-7:30pm) and the Jersey Art & Studio Tour 10/3-10/4.
Lia Romeo's American Dreamers will run from – September 11, 12, 17, 18, 19, 24, 26, performances 7:30-9:30pm. September 17 (Thursday) & September 24 (Friday) include Talk-Back promptly at 9:30. Tickets: $24 online (visit: jctenter.org), $28 day of show.
Happy – Film & Talk-Back: October 10, 7:30-9:30pm. Tickets: $10 (available online and at door). Happy, a 2011 feature documentary film directed, written, and co-produced by Academy Award nominated film-maker Roko Belic, explores happiness by looking at the latest research from experts in positive psychology and through interviews with people from different countries and all walks of life.
The gallery below features more photographs from Happiness: