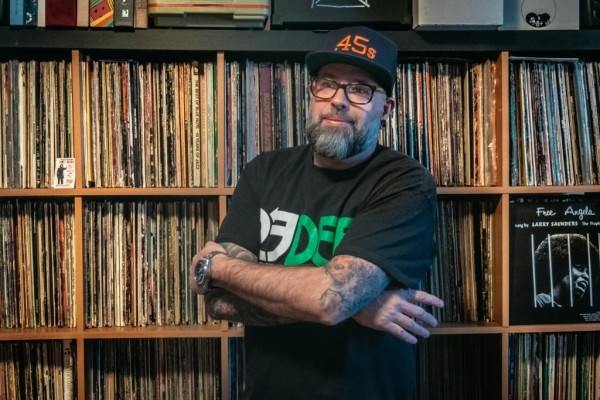 There are many really talented local Jersey City DJ's  that are making a name for themselves in the nightlife scene.  That being said, it's very rare to see a DJ carry in crates of records to their gigs these days. Digital is just easier and more convenient! The art of DJ'ing has completely changed in the last decade, now anyone with a mixer and a digital playlist can call themselves a DJ. I am glad that the DJ's I know here in JC represent and take a lot of pride in their work.
My friend (and also my awesome mailman) Charlie Greene, introduced me to his friend Flea Market Funk aka DJ Prestige a few months ago. DJ Prestige has toured nationally, and opened for legends like Q-Tip and Joss Stone, he lives and breathes Vinyl culture. Not only does he DJ all over the New York area and Jersey City he is also a writer that prides himself on preserving the often forgotten artists of Soul, Jazz, Funk and Hip hop. We literally need him! The music industry is so different now, I feel a little old saying this but they don't make music anymore like they use to.
DJ Prestige invited me and friend/photog Nabil to his home in Greenville he shares with his wifey, 12 year old son and an adorable 4-year-old (who will be mini-chicpea's future ex boyfriend).  I had so much fun getting to know him, looking through his insane record collection and listening to him do his thing on the turntables. DJ Prestige is probably one of the coolest people I've interviewed on ChicpeaJC. If you are a music head I highly recommend checking out his website and following him on social media!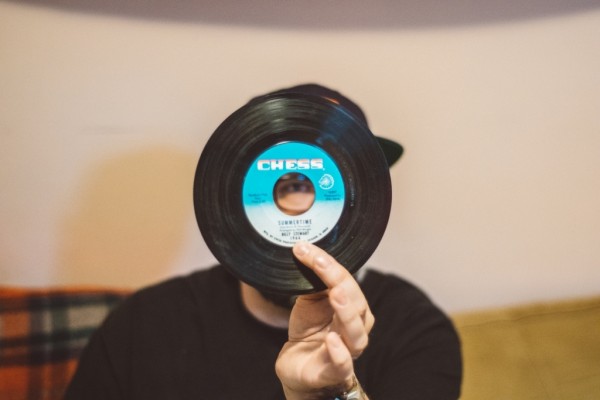 What's your name? Jamison Harvey.  I go by the name DJ Prestige.  I run the all-vinyl record culture site, Flea Market Funk. I'm a DJ, vinyl record collector, writer, graphic design nerd, radio show host, and social media nut.
How long have you been a DJ? Almost twenty-five years.
How did you get into it? I always collected vinyl.  My dad collected vinyl, I guess that's where I got the bug.  When I got into college I had a radio show on WLFR. I loved DJing so much, but I wanted to play hip hop and the hip hop director used to lock up all the records so I couldn't play them.
Why did he lock up the records? Because it was his show.   He passed away, unfortunately, years later.  He was a nice guy and a huge influence on me without even knowing it.  His name was Sure-Rock Holmes and Marc Asbury was his DJ.  This was the first time I had seen someone DJ live. It made me want to DJ so bad, that I just started buying all the records I couldn't get to play.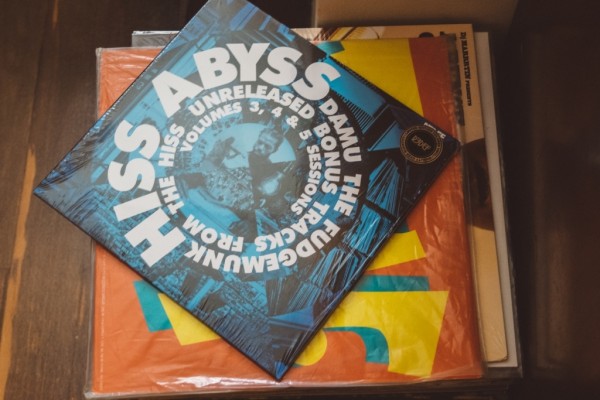 Where did your DJing go from there?  From there I started DJing at the Jersey Shore which was not fun, but it gave me some experience After that, I moved up to Red Bank, started a business, and in the back of our lounge, I had turntables. I kept all my records there. I learned how to DJ on these crummy Gemini turntables that I bought from a dude in a Burger King parking lot who I'm still friends with today. (Shout out to DJ Aqua!) I wasn't gigging as much, just making a name for myself in NJ and the surrounding areas. I was staying in and practicing Friday nights, Saturday nights, and I went digging Thursday, Friday Saturday, and Sunday.
I started out with gigs in Red Bank, then I moved to Asbury Park, started DJing in New York City  and then around the country. I joined a national band and the DJ and toured from 2000 until 2005. It was fun to travel, but it was just a crummy experience.  It was a lesson on how not to tour. The band eventually imploded. I decided to do things on my own and make my own destiny and stayed solo as a DJ.  It's been the best decision I have made. When I controlled my own destiny, and then eventually followed my wife to Brooklyn, my career moved forward even further.  I began doing gigs all over Brooklyn and the City.  I've been doing the Ace Hotel in NYC for six years. I do probably four month long residencies a year on Friday nights. I've also do a lot of corporate events as well.  Gigs with Adidas, Blue Moon Brewing Company, Major League Soccer, Universal Pictures, YouTube, and more.  I've been lucky enough to partner up with Victoria Secret and Soul Cycle to DJ the charity event Supermodel Cycle in New York City. I just did the Fox and Crow in The Heights recently with Pat Van Dyke and people were like, "I can't believe this guy is playing 45 records."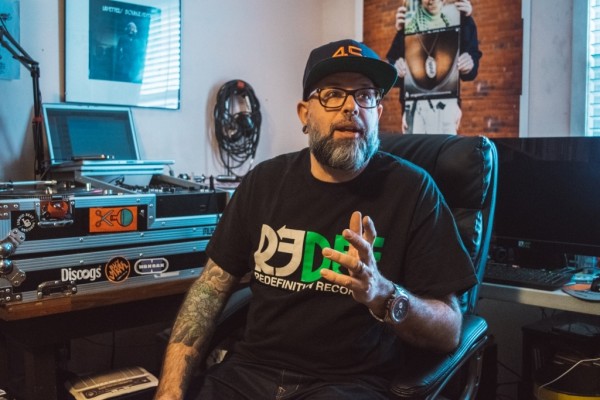 What is your genre? My genre mid-to-late 60s, early 70s, funk, soul, jazz, reggae, quality hip hop and anything funky.  For me, it's all about the meaty drum break. That can be found in a lot of records, so I concentrate on anything funky. But my specialty is 45s. I can work doubles like a champ, though, so that is always fun. I like to get people saying: "Oh shit, I know that sample," or "I know that track!" I basically like to make people feel good about what I'm playing, even if they don't know it.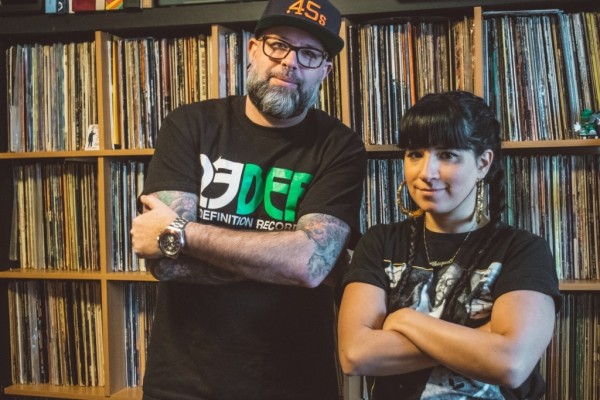 Tell us about your website. With my site Flea Market Funk, it started out as me just writing about my record digging stories. I'd be like, "I found this record," and I'd research, write about it, sometimes contact the original artist if I could, and people would get excited about these dusty vinyl record stories. There's a lot of people who did that on the internet, so I started moving in a different direction. I started highlighting and championing the little labels and working class DJs and their respective projects. That propelled me forward. The site just went nuts. In 2016, I'm a daily destination site for DJs, diggers, producers, artists, etc.
We get anywhere from seven-eight hundred to six thousand unique visitors per day.  My niche is breaking records you never heard of, and promoting original content that no one else does. I write five to six days a week, do unique, original mixes (everything's live because that's how it is when you DJ), and do original merchandise. My 45 RPM Tee sold out very quickly, and my new merchandise project Buy More Vinyl is following suit.  It's a series of merchandise that is based on the 70's record sticker The Nice Price.  I'm doing tee shirts, stickers, and sew on patches, all available on the site.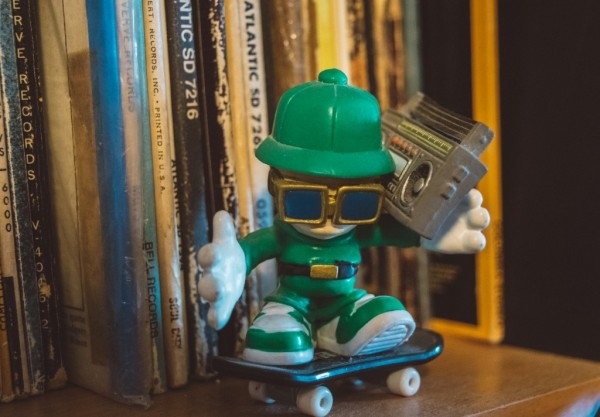 Today, everyone wants to write about Kanye and his beef or wackiness, but I don't need to write about that. For example, today, I wrote about a dude that did this Brazilian mix for a big UK site.  This guy preserves Brazilian 45s that you can't find. Unique, funky, and well-deserved recognition. I'm not into writing click-bait. I'm a niche market and I'm passionate about what I do.  I don't bullshit, that's what's gotten me to where I am.  Honesty, passion, and integrity.
You want quality content. Of course! I want to make an impact. I'm more brand focused and a lot of content.
"Legacy is better than currency," that's not my quote, you have to give it to the great Gary Vaynerchuk. You can always make money, but having a lasting impact on your community, for your family, is important. I want to have an impact on my community and the world.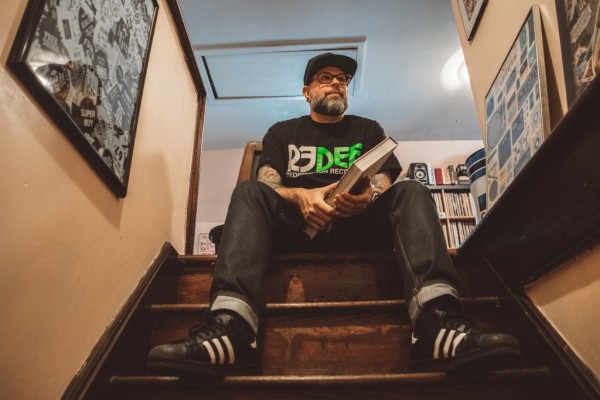 What I'm going to do now is take it to the next level with a YouTube channel and more video of  vinyl record culture and the scene and what I do.  I have an interview series called "Big Ups" (which my wife encouraged me to do).  This is going back a few years.  It's just ten quick questions about vinyl record culture. I just want to highlight people and what they do and share that with the world. There's so many people that do cool things and make an impact on their community and don't get written about.  When I finally did Big Ups, it took off. I've interviewed everyone from Maseo from De La Soul to Adrian Younge (Jay-Z, Ghostface Killa) to UK legends like DJ Andy Smith and Mr. Thing, as well as working class DJs from around the world who are doing big things and don't get recognized for it.
I also was heavily involved in a photo book by photographer Eilon Paz called Dust & Grooves: Adventures In Record Collecting. It was a book about record collectors in their most intimate space, their record room. We were the official book of Record Store Day 2014. I'm very proud to have helped with that book. We're on our third edition.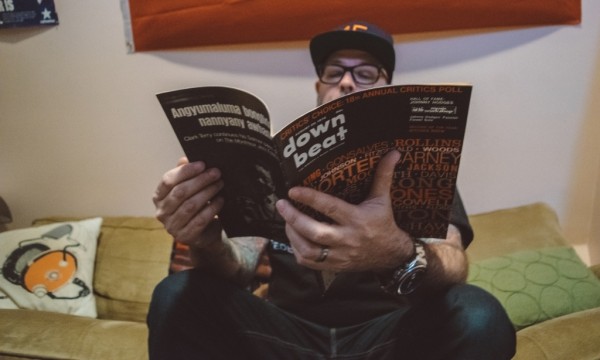 People don't play records anymore. How do you feel about music today? It's funny because people do play records, but unfortunately, most clubs and bars want the Hot 97 or Top 40 vibe, which is not my scene. Today everyone is a DJ, and a lot of the millennial crowd's experience is DJing with a computer or controller.  I learned on vinyl and that's how it is going to stay. Not knocking anyone, just my choice. As far as the music of today, there's good music and then there's bad music. I try to stick with the good.
This just came out this past year:  Kamasi Washington The Epic. He's a jazz artist that plays like the old jazz artists from the 60's and 70's. A combination of free jazz, soul jazz, and more. He and his band are from Compton and they played in their mom's house, all real jazz. It's incredible.  Just solid stuff. Hip hop-wise, there's bands like Soundsci, Ollie Teeba from The Herbaliser, and some other labels like Origu from Germany that also put out great stuff. They have a b-boy ethic. It's all late 80s, early 90s, high-tempo hip hop. They're still living it. Great music most people won't search out for because it's not mainstream.
Many small labels, like Redefinition Records from here in Jersey and Colemine Records from Ohio, are doing big things.  I love their releases. They put a lot of r 45s out, so that's a bonus.  There is a lot of good music that comes out and it's the stuff that I try to champion. I really look up to a guy like Gilles Peterson.  He is a well known UK disc jockey, label owner, and radio host.  He's a guy that breaks music and started the acid jazz movement in the UK in the 80s and 90s.  He  continues to just discover beautiful and groundbreaking music from all around the world and bring it to the masses. That's what I try to do on my site FleaMarketFunk.com. I want to promote great music. I don't write bad reviews, it's not good business, it doesn't help me and it doesn't help the person.  With the site, I get to stay in my lane and promote what I want. Throughout the years, I've become known as a tastemaker and that's where I want to be. You want to hear something you don't hear on the radio, I can help you out.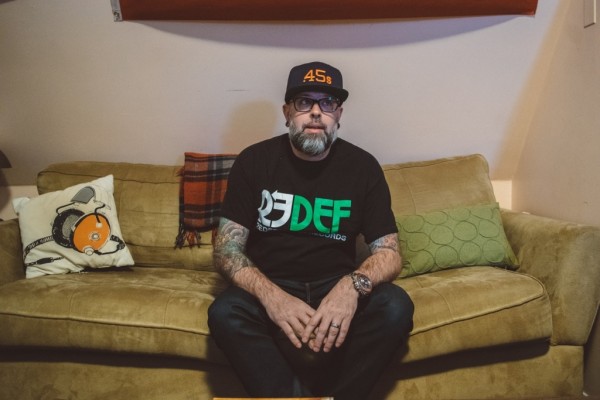 So you don't listen to Beyoncé. If I have to play Destiny's Child sometimes, I will.
Do people request songs? All the time. I don't take many requests, but people surprise me.  Someone requested Sarah Webster Fabio's "Sweet Songs" recently on one of my 45 nights.  I had it in my bag, but it's a super obscure record, so I was thrilled to be able to make someone's night with that.
What is your reaction? Most of the time it's "I don't have it," and I point to my bag of 45s.  My thought is that if you can't dance to 60s Latin boogaloo or James Brown, then you're not in the right place. I understand what the job of a DJ is, but I don't take gigs where I have to force people to dance or have some club owner standing over my shoulder. Throughout my career I've DJ'd full-time, I've DJ'd part-time, and I've worked freelance. But I don't really get out of my lane when I do it. That's what I've become known for.  You won't see me doing a dubstep night that is for sure.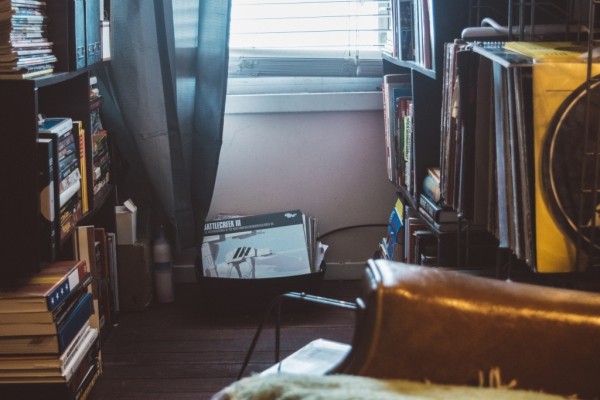 How did you get to Jersey City? I lived in Asbury Park for a long time and when I met my wife, she lived in Brooklyn, it was before we had our son. I was living half in Brooklyn and half in Asbury and I had been around the DJ scene for a long time. I had a business in Red Bank in the '90's,  and all through 2010 I was in Asbury Park and I was just so tired of it.   She said, "Well, just move up and we'll get a place and you can DJ in the city more." She was a big proponent of me doing my thing—she saw more potential and opportunity in me making the move.  She was right.  As far as getting to Jersey City,  our previous landlords in Brooklyn all of a sudden decided that they didn't want to rent to people who had kids. We found this house within thirty days and we were like, "We want it." Again, my wife is the driving force and she pushed and pushed and pushed and we got this house and the people there were motivated to move out. We got a decent price, and here we are.  We love Jersey City and Greenville.  It's the final frontier here in Jersey City.
Do you have a favorite hangout spot? I like Iris Records, that's like my place to get away and get lost with myself and record digging. I've eaten at Left Bank a few times. I'll have guests come in for my Live From Greenville Studios radio show and I'll take them there.  Who doesn't like a really good burger?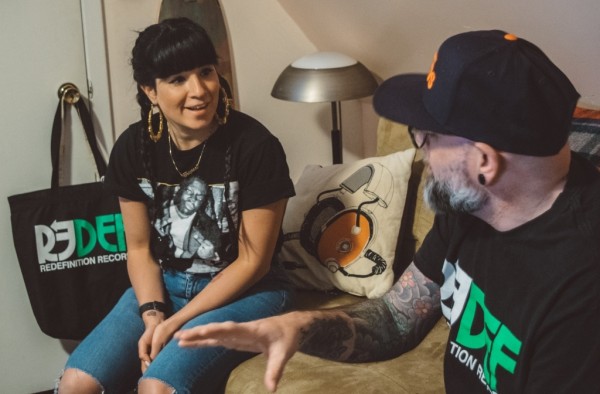 Anywhere in Greenville? I want to go to Lou's it's on Ocean, it's a cool little greasy spoon with grits and stuff, but haven't made it over yet.   As a family, we  go to a place in Bayonne called The Little Food Café, it's one of our favorite breakfast spots.
So tell me about what you're working on now in Jersey City? I was doing Wednesdays at Transmission, but we're taking a break until the Spring. I did an all funk & soul 45 Party at The Citizen with Jersey City legend Pat James Longo called Hot Pants Road.  We will be doing it again in the near future.  For now, I'm doing nights at The Leadbelly on Orchard Street in NYC and that's all funk, soul, jazz, latin, and garage 45s.  I'm back to the Ace Hotel on Fridays in March.  I'm looking forward to more gigs at The Fox and the Crow and some other venues in Jersey City that dig my vibe.  So hit me up JC venues that want some original records and music.  Your night doesn't have to be all about Top 40!  People can get down to 45s.
Anything else you'd like people to know about Flea Market Funk/ DJ Prestige? Stay true to yourself. People are going to come around to what you do.  It may not be right now, but it will happen if you keep grinding. You just got to keep doing it. Don't give up. Stay in your lane and do your own thing.  It's nice to have influences, heroes and people that I look up to, but at the end of the day, it's all you. I've been fortunate to meet a lot of them throughout my career. For example, Mike D from the Beastie Boys DJed at The Leadbelly the other night.
But at the end of the day, they all put their pants on just like me. They're just people doing their thing and that's how I see myself.  I'm just a guy that loves vinyl records and vinyl record culture.  I am a student of this game and always learning. I love to share music, promote the culture, and make an impact on my community and the world with what I'm doing.   I hope that's how people see me.
More info on DJ Prestige and FleaMarket Funk here:  http://fleamarketfunk.com/
Check out where DJ Prestige is spinning here: http://fleamarketfunk.com/fmflive/
Hear DJ Prestige mixes on mixcloud: https://www.mixcloud.com/FleaMarketFunk/
Get Buy More Vinyl merchandise here: http://fleamarketfunk.com/merch/
FleaMarket Funk Twitter: @fleamarketfunk
FleaMarketFunk Instagram: @fleamarketfunk