A collective of women who take no bull…just your order
Have you ever given any thought what is your go-to comfort meal? After a long or trying day, what is that dish that just feels like a hug or an embrace? For some, it's a warm bowl of pasta; for others, it's a hot bowl of soup. For me, it's my dad's pollo guisado or chicken stew over pillowy yellow rice. There is no right or wrong answer to this. Instead, it is a delicacy which is not only a party for your senses, but usually just the aroma of a particular dish will transport you back to its first discovery. A non-complicated love story where the dish and you are the protagonists.
One day while having this conversation about comfort meals with a coworker, he mentioned his abuela's pupusas as a dish he fondly missed. Intrigued, I asked what it was and was pleasantly surprised to learn it shared many of the same ingredients as Colombia's arepa recipe (minus the fillings). This Salvadorian specialty is made with masa harina, or cornmeal flour and water, mixed with various fillings like refried beans, cheeses, and meats topped with curtido or a pickled slaw. Thankfully, living in a diverse area and with some minor research, I set out to find some. Or rather, pupusas found me. Thus, my relationship with Doña Antonia's was born, a classic Salvadorian pupuseria with all the fixings in Guttenberg, NJ. Initially, I thought I had entered the wrong address in my phone given there was no awning introducing the restaurant – I sheepishly wandered in and the aromatics let me know I was in the right place.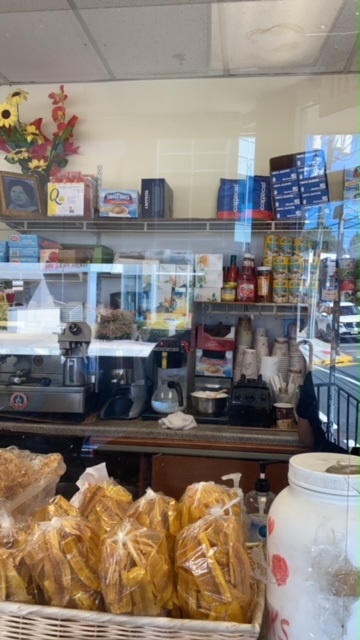 Upon arrival, you'll be greeted by Doña Antonia herself and she'll direct you where to sit. After some time, one of her waitresses will offer you a menu with true Salvadorian delicacies not only limited to pupusas but also tamales, pressed juices such as tamarind, and plantain empanadas. For many, I'm sure this feels like a family gathering much like being back home. For an outsider like me, I gladly welcome the $2 meal and great people watching. To my left sits a family of six, enjoying their barley shake and soup in the summer. True Latinos know "soup season" is in the hottest months. To my right is a male duo who brought beers to breakfast and are carb loading. In front of me sits a full menu of options, but I am only here for one thing – a pupusa. The waitress lets me know it's a 10-15 min. wait on loroco or a specialty root flower and when I close my eyes, I hear the patting of pupusas as Doña Antonia directs the open kitchen. The women behind the counter are recapping their previous night and talking about their children when one of the men drops his beer and glass shatters everywhere.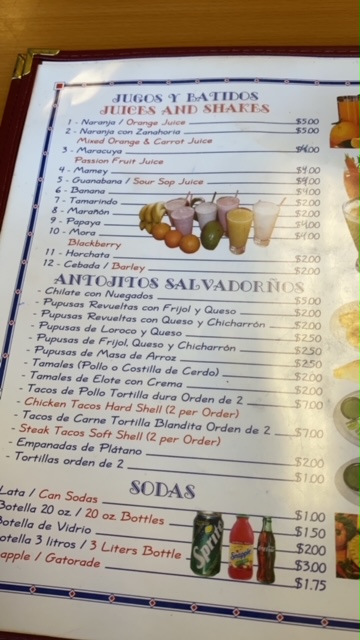 Not even a pause when the nearest waitress comes by to clean, muttering to the man's foolishness under her breathe. "Borrachos" – or drunks – she exclaims loudly for all to hear, Doña Antonia doesn't interfere. Instead, she quietly brings them their bill where I see they drop $20 dollars and get up to leave. Make no mistake, this is not fine dining – this is dining with the locals who are still wearing off their previous night. I overhear the doñas behind the kitchen now reminiscing about previous drunks and rowdy patrons plus how a waitress once punched a customer and Doña Antonia didn't fire her. "She's a good boss, she looks out for us," they all agree.
Soon, my double stacked pupusas are placed in front of me and the cheesy burnt rounds are smoldering. A proper placement of curtido and some picante or hot sauce is a must to complete this meal, and the cheese pull is outrageous. I don't mind burning my tongue, it's worth it if you ask me. For the rest of the meal, no one comes to check on me or ask how my meal is. They can tell by my ravenous hunger everything is fine. I ate too fast and greedily want to put another order in, but I stop myself when I notice the dining room is crowded and people have started to wait to be seated.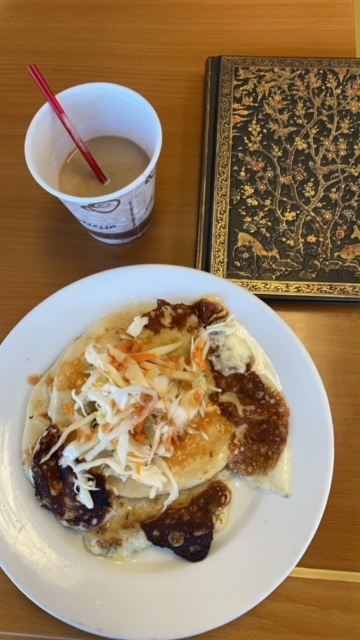 I ask for my bill, but pause when I think there's a mistake as it reads $7.25, but some quick math assures me it's correct. As I went to pay upfront, I come face-to-face with Doña Antonia herself and I ask her how business is going, if the pandemic has made things harder. She proudly responds, "The opposite, both locations are doing well!" I completely forgot her 32nd street Bergenline Avenue restaurant sits on a prime bus route stop. I zone back in when she says, "Que tengas buen dia, mija," I simply respond, "Gracias, igualmente." This entire experience felt like being back in my abuela's kitchen, cooking, catching up and exchanging gossip with stellar food as the highlight. Maybe you will find your comfort meal here too at Doña Antonia's.
Visit Doña Antonia's at 152 71st St, Guttenberg and 3212 Bergenline Ave, Union City.