Press Release – June 1, 2021
Welcome Home Jersey City, a community-based nonprofit organization that provides educational, employment and material support for refugees and asylees, will sponsor World Refugee Day Festival 2021 in conjunction with First Friends of NJ and NY, a nonprofit providing services to detained immigrants and asylum seekers such as volunteer visitation resettlement assistance and advocacy. The festival will include speakers, information tables, activities for children, food provided by Prince Halal and others, and a mobile Covid-19 vaccination unit. It will take place on June 20th from 2PM to 5PM at Temple Beth-El of Jersey City.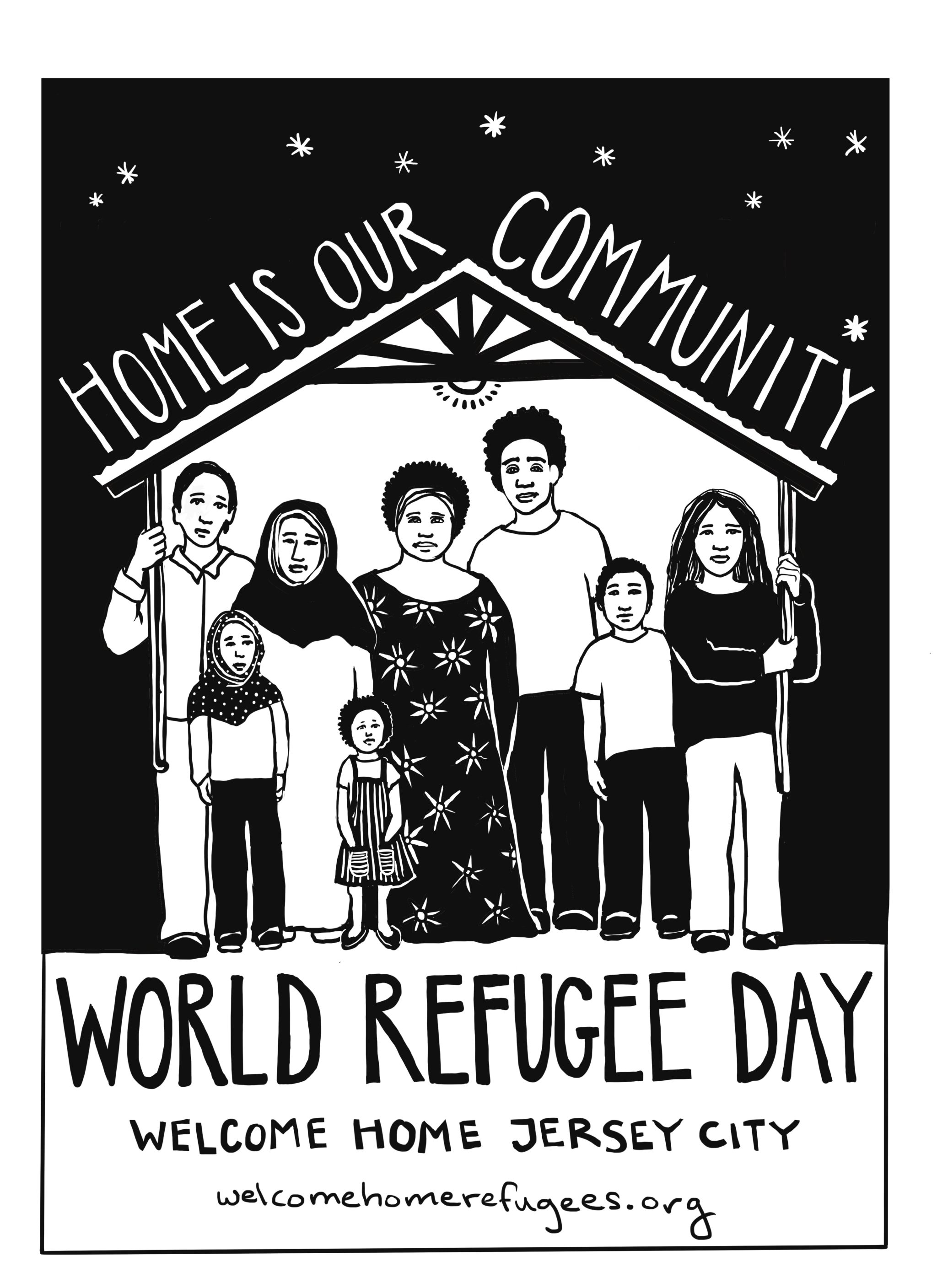 "The world is such a very different place than it was one year ago," said Alain Mentha, executive director of Welcome Home. "We once again prepare to welcome refugees and asylum seekers into our community as neighbors and friends amidst in-person gatherings after a year of socially distanced events and remote meetings. Welcome Home and First Friends are thrilled to mark World Refugee Day with this festival celebrating our work and our community."
The festival will be anchored by three concurrent exhibitions designed to promote community and a sense of home for Jersey City families – both long-time residents and recently resettled newcomers. The first exhibit – "home", an outdoor community art installation produced by Catalina Aranguren of Walk-Bye – opened at the Morgan Library in Jersey City in May. The show consists of artwork submitted by artists around the globe including Syria, Costa Rica, Nigeria, and the United Kingdom, as well as Jersey City children, that expresses their personal meaning of "home".
Walk-Bye will also produce the next exhibition – titled "Displaced" – that will open at the City Hall of Jersey City on June 4, 2021. The show consists of artwork by younger members of the Welcome Home community representing countries such as Chad, Syria, and Nigeria.
Aranguren and Walk-Bye will debut the final exhibition – "Welcome Friends" – at the opening of the Festival on June 20 at Temple Beth El in Jersey City. It centers on works of art by members of the Jersey City community that tell their personal stories of where they came from and the challenges they faced during the pandemic lockdown. "I joined the board of Welcome Home last year during the pandemic and was so moved by the stories of their clients," said Catalina Aranguren, founder of Walk-Bye. "It was a true honor to work with them and my fellow board members as we all weathered through the lockdown last year. This inspired me to put together 'Welcome Friends' to allow our community to express these journeys."
Learn more about:
Welcome Home Jersey City – Instagram | Facebook | Website
First Friends of NJ and NY – Facebook | Website