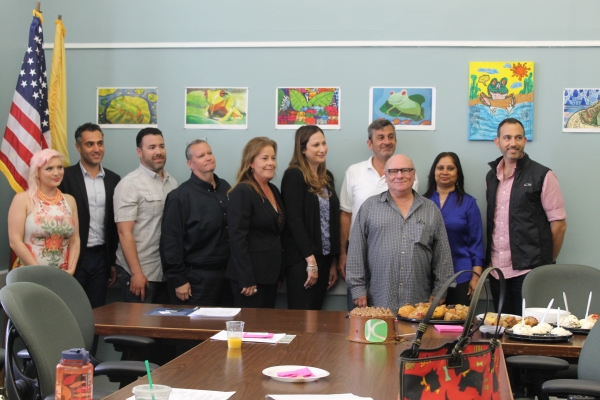 Have you ever wondered who was behind all the downtown happenings? The Street Fairs, Farmers Market, Groove on Grove, Ribbon cuttings and most importantly who is in charge of keeping out streets cleaned? It is the wonderful people of the Historic Downtown Special Improvement District aka the HDSID.
Almost a year ago, I met Rachel Sieg, the Executive Director of the HDSID at JNails on Grove street while we were both getting a manicure. We started chatting and instantly connected, it was love at first sight. Since then we've collaborated on a few different posts helping raise awareness to all the good things happening in the downtown area.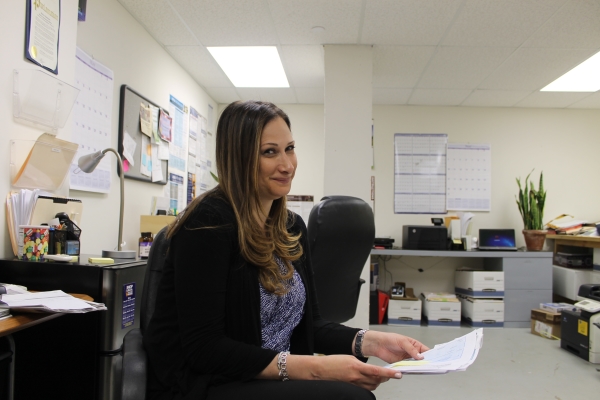 Throughout the year I would always say to her, "When are we telling the HDSID story?"  It's so important for people to know who the individuals are that work tirelessly all year round to make the downtown area so vibrant and entertaining. She responded, "We have our annual meeting May 16th, let's do it then."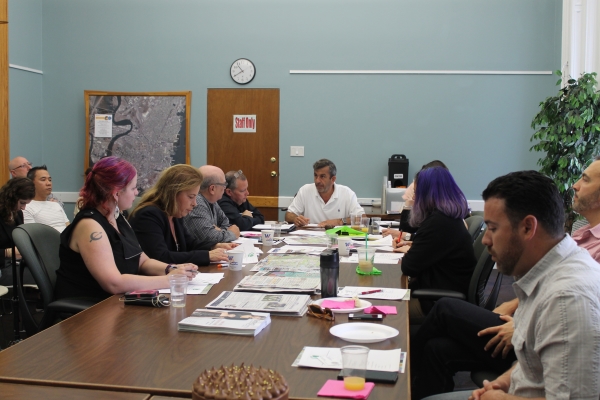 Before their annual meeting, I got in touch with a few members of the Board to get the HDSID backstory. All their members are local business owners who put HDSID at the top of their daily responsibilities. It is clear they are passionate about making significant improvements to the downtown area, and it shows!
---
Nima Nili- Treasurer
What's your name? Nima Nili.
What do you do? I am a real estate developer here in Jersey City, we also do some property management. I am also the Treasurer of the HDSID.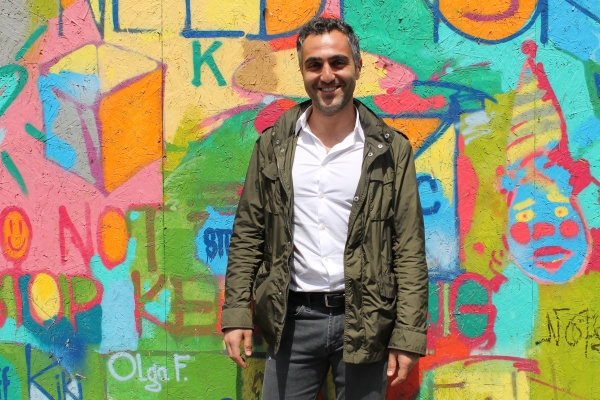 Tell me a little bit more about your role in the HDSID? Sure. The HDSID is a private public partnership-that represents the businesses locally here in the district. The district runs from Marin and goes to 3rd Street (we are expanding it soon). It also runs north-south from Montgomery to 2nd street. My role as a treasurer is to oversee the accounting to help prepare the budget to work on the assessments that are needed from the city. It's also publicly funded so we do get money from the city. The city charges an assessment to all the different property owners and they charge on a linear per foot basis.
How did you get this gig? In 2005, I arrived in Jersey City and I wanted to be a developer here… I really wanted to plant a flag somewhere and really grow in that area. One way to do that was to get involved in the community so I went to a HDSID meeting in 08/09 and right around then they were having elections, so I thought it was interesting. At the time, when they were looking at who is going to run they said "Ok there is 3 people here, but only one seat open" and I remember John Reichert, who was the President at the time, he said "Let's see who comes back next week, and if you're all here, we will decide how to handle it." Sure enough, the next meeting came and I was the only one who showed up. So I got the seat!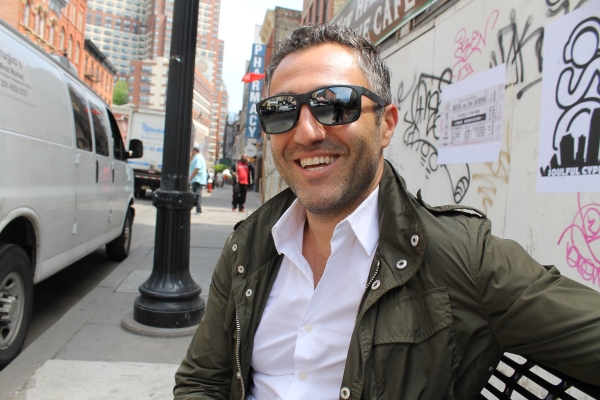 Some time went by and they asked me to get more involved, so I said "I can help, I have a degree in accounting" so that's how I got involved.
You have a full-time job as a developer, you are also a dad of three kids, and you are the HDSID treasurer… how do you manage it all? Sometimes it's time intensive, for example when we are planning the Street Fair, or working on the Budget. We are very fortunate, we have a great staff. Rachel and Alicia they are wonderful and they take a lot of the burden off of me, and our book-keeper does a fantastic job. There are times when it does take a lot of my time…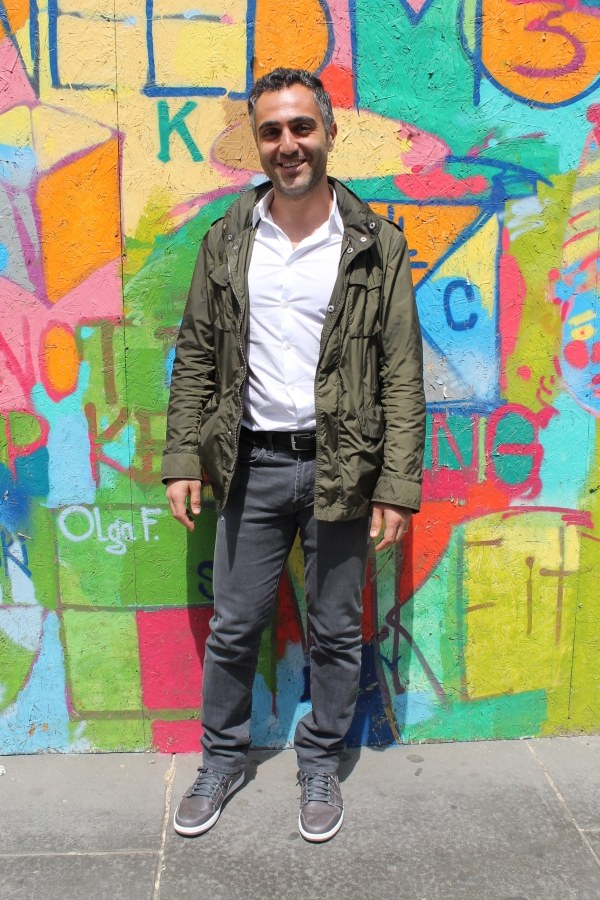 Do you have a favorite Jersey City hangout spot? I love Third and Vine, I like Satis. I am really excited for Raval! We are involved in the construction there.
Being the HDSID Treasurer, what's in it for you? The satisfaction of being part of something. There is a great energy there…one day when I look back I can feel good about being involved in the early stages of the rise of the Downtown area.
Thanks Nima!
---
Jerry Blankman- Vice President
What's your name? My name is Jerry Blankman.
What do you do? I own 172 Newark Ave. Where Palace Drugstore is and Bon Chon Chicken and other tenants. I am also the Vice President of the Downtown Special Improvements district.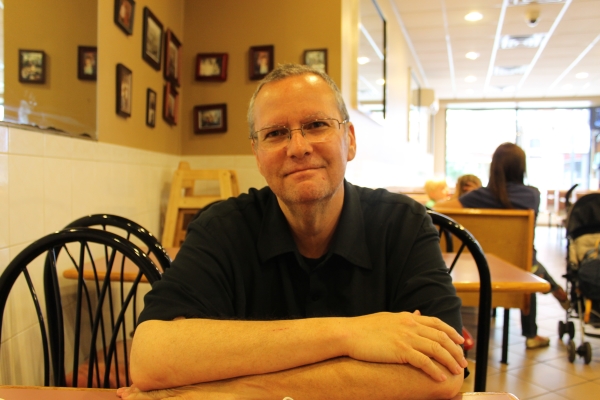 How long have you been doing it? I am the co-founder with Steven Kalcanides. Probably for the last 20 years…
How did it start? It started as the Downtown Merchant Association, which was started by Arnold Freedman, my father Arnold Blankman… I believe Steve's father was involved… and some other local merchants. As Special Improvement districts became the norm and became something people were doing… some people approached Steven and I to begin the search committee for the Special Improvement district… so Steven and I were the chairman and co-chairman of that committee. The search committee began writing the by-laws, which Steven and I wrote with two other local businesses. I owned the Pharmacy at the time… we wrote the by-laws and the ordinance that eventually passed and I think we were the second SID to come into fruition in Jersey City.
Tomorrow is the annual meeting. What should we expect? We've had some interesting annual meetings… Some have been very smooth…. We elect our board of directors through a very specific process which is in our by-laws and they involve ballots being sent out to every business and property owner throughout the district and they are allowed to vote remotely by having their ballot notarized and delivered to the meeting… or if they come they can hand it in. Ballots are counted. After the slate of officers is elected, the executive board of directors is appointed through nominations and then votes bases on those nominations.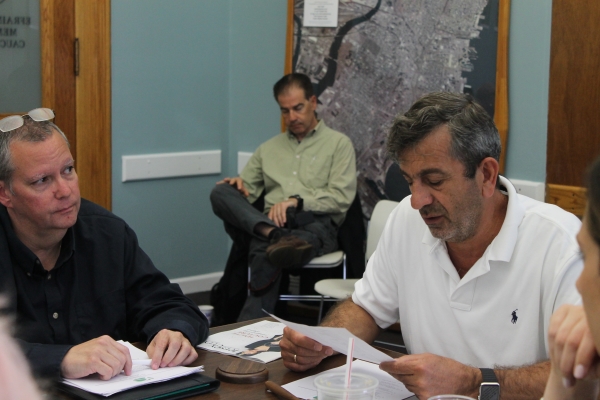 What do you like about being part of the HDSID? My family has been on this street since 1929. My uncle started the Pharmacy that year. I've been working there since I was in high-school, and then full-time when I was 19. I sold it 8 years ago and retained ownership of the real estate. I like being part of the decision-making process in the area that's been gentrified from what it was when I was a kid. Which was socio-economically much different then it is today. Having some hand in where that development goes is good for me and it's good for the district.
What do you feel about the change? It's changed dramatically… the amount of restaurants opening, the quality of these new businesses from what it was when Steve and I were kids is amazing. I think it's great. It's brought in new clientele and a lot more people because of what Rachel has done with the SID. Our events attract thousands of people…
Did you and Steve grow up together? Steven grew up in his fathers pizzeria and I grew up in the Pharmacy and the liquor store my father and my uncle owned from the time we were really young. Probably teenagers. We've known each other for well over 30 years.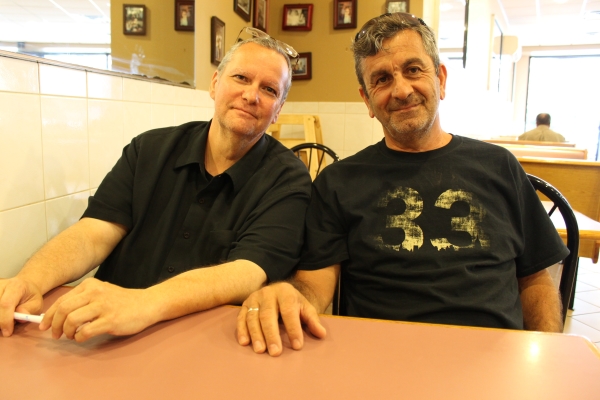 Do you have a favorite Jersey City's hangout spot? I like Skinners Loft.
Anything else you want people to know about the HDSID? I would like people to start to pay attention to the really great strides the SID have made.
---
Steven, can you tell me about the meeting tomorrow? The annual meeting, goes according to our by-laws. We adopt our budget, we propose to all the members and we also have elections for all our board members.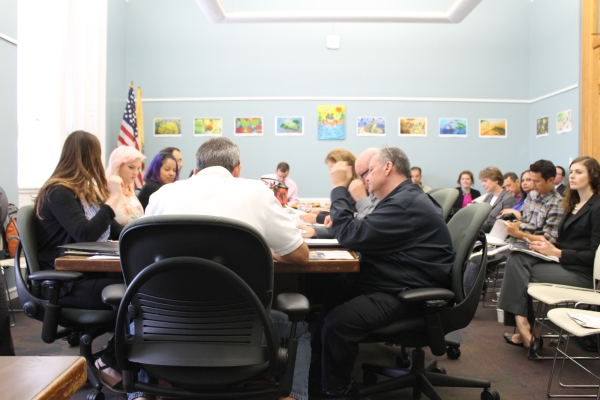 Any plans for the next year? We are planning on expanding the boundaries of the SID.
Anything you would want people to know about the HDSID? People should know that the SID is behind all of what's going on within the district. Without the SID none of it would have been possible… The farmers market, street fair, groove on grove.. basically changed the whole outlook of this business district from what it used to.
Are you planning on closing up Newark ave? Grove street to Barrow street will become a permanent pedestrian walkway. It's going to be configured in a way where, emergency and delivery vehicles can pass through.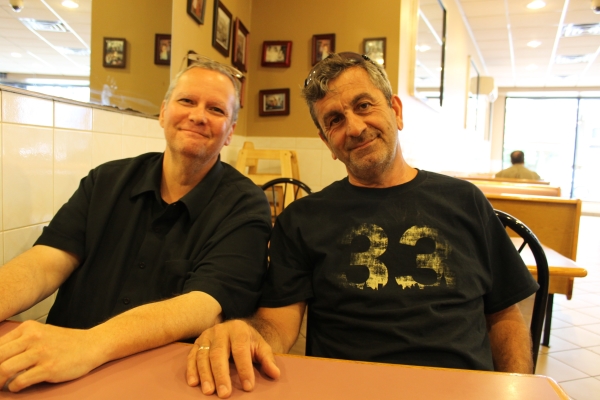 That's awesome. High five! That is something we discussed back in the late 80s because everything was changing so fast at the time. Newport mall opened at the time and changed the scope of the businesses here…
It's going to be great! Thanks Steve.
---
Carmen Mendiola- Secretary
What's your name? Carmen.
What do you do? I own Hard Grove Cafe, Sugar Town Bakery, I am also a lawyer in downtown…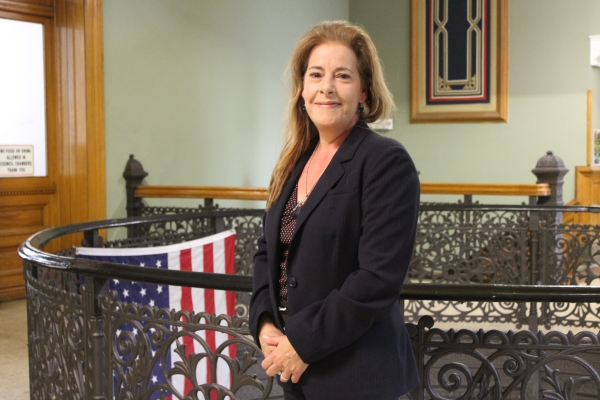 Wow. You do a lot! What is your role in the HDSID? I am the Secretary for the SID. I've been on the board for two years, it's a lot of work and a lot of fun.
Since you are so busy, why did you take this on? I think it is important to have a connection to your community, it's important to see the community go forward. Last night, Sherry and I, walked around the downtown area to meet all the new merchants.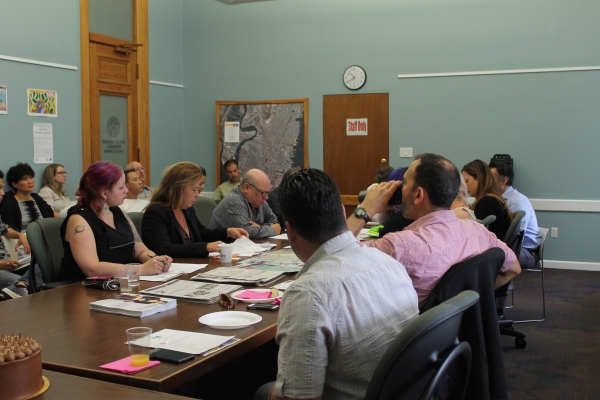 Do you have a favorite Jersey City hangout spot? Ofcourse, Hard Grove Cafe! I am always going to all the different local businesses to support them.
How do you feel Jersey City has changed? There is an enormous amount of growth, you have a lot of new people, it's eclectic and very cultural city. My goal is to intergrate all the new stuff with our current culture and continue to be a diverse city.
---
Rachel Sieg- Executive Director of the HDSID
What's your name? Rachel Sieg.
What do you do? I am the Executive Director of the Historic Downtown Special Improvement District.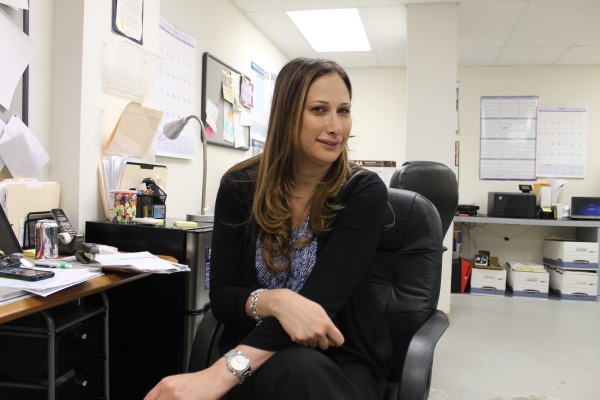 What is the HDSID? Basically my job is to help the businesses grow, improve the downtown area and make it a better place.
How long have you been doing this? It will be five years in August.
Mazal Tov! Yay!
How did you get into it? You know, it's crazy, I saw an ad on Craigslist and they were looking for someone to get involved in events and that is my background…I was like this is great, I will do it part-time and see where it will take me.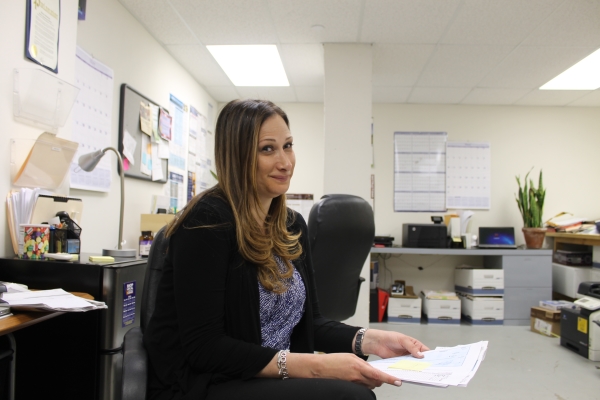 The rest is history… Now I am full-time. I love it. I live a mile from where I work, I have great bosses. Everyday I am doing something new. One day, I am helping a new business plan a grand opening, to the next day, I am running a farmers market. It's not sitting in a cubicle all day answering phones and typing… which I am not good at.
I always see you out and about. I am always out and about, talking to businesses, asking them "What can we do? What kind of marketing I can do for them?" I am always out there.
How does the HDSID get funded? We receive an assessment from all the businesses in our district and then it's my job to get sponsorships… from P&C Bank, to Goldman Sachs… They are so generous, they love what we do, they love that the downtown is growing. Every year they give us sponsor to throw our events on… This year we raised over 120,000$, it is also our first year were we broke even with our Street Fair. The sponsors are growing and getting bigger and they are making it easier for the HDSID were we don't have to use money where we can use for the clean team.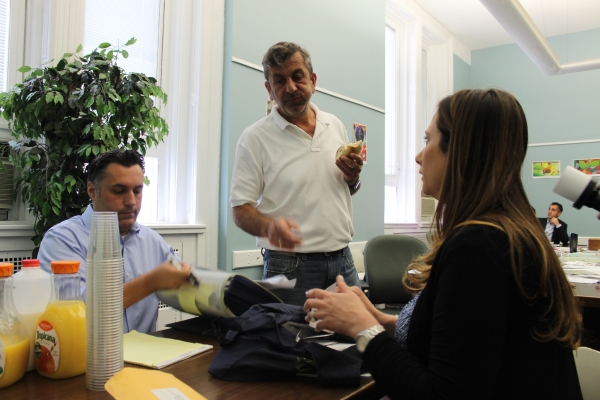 The SID is behind Groove on Grove,  The Street Fair, Farmers Markets, Cleaning… 7 days a week, Monday through Friday we are here from 7-7pm and on weekends from 7am to 8pm.
That's why it's so clean… For me I would rather have the clean team then anything else. If it's not clean, who is going to want to come here?
What's the process of the ribbon cuttings? When a new business opens up, I go there and introduce myself, and ask them if they want to do a grand opening with the Mayor and myself… and it's free! We promote it, we put it on Facebook. A lot of the businesses that come to the district, don't have a following so it's our job to send out an email, and newsletter and promote their grand opening.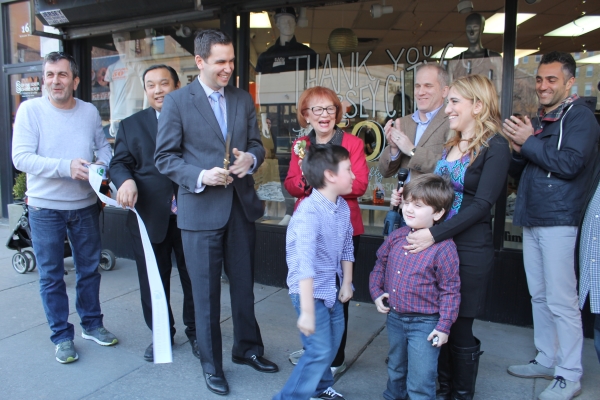 So you just call up Mayor Fulop and say "What's up Steve? Come to this ribbon cutting…" Well I call up his scheduler, and I usually have a list of a few and schedule it. He goes to all of them. He loves them, it's really important to him.
What's your favorite Jersey City hangout spot? I just went to Razza for the first time and I have to say it's my new favorite place. We sat outside, the pizza was delicious. I can eat at a nice fancy place like that and I also love the Little Sandwich shop, I eat there almost everyday and it's packed around lunch time.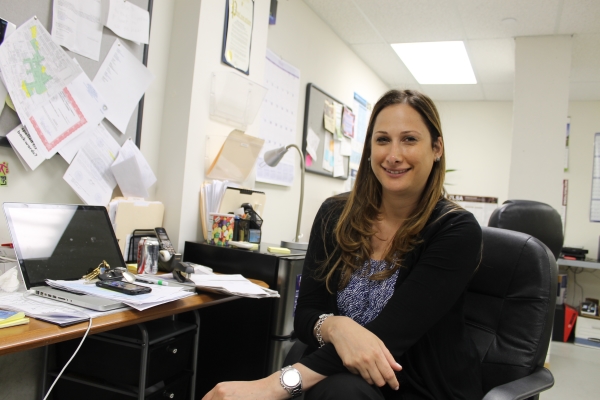 How do you feel about the change? I feel like it's growing… every day a new business is opening. South House is opening up soon. I love that there are more families now, which I am so excited about. I see huge improvements.
What are the future plans? We are expanding our boundaries so Talde, Carrinos and Toricos they are going to be in our district… Union Republic, Kraverie….
Anything else you want people to know? Come to Groove on Grove, come to the Farmers Markets, and support your local businesses.
Shop local people!