Below are two separate articles: one by Safa Mostafa who lives in an underserved neighborhood, and the other by Jai Patel who works closely with community leaders.
Each contributor shares their perspective on gun violence in the area and the rally that was organized afterward to continue the discussion on gun violence in Jersey City.
---
Safa Mostafa
New year, new team, same gun violence issues…
On January 14th, Students Demand Action of Hudson County had a rally in response to the Newport shooting and all the shootings in between that no one has spoken about. For example, the 4 public school students that lost their lives by a bullet in 2018. The 4 students who will not go to prom, receive their high school diploma or come home to their families.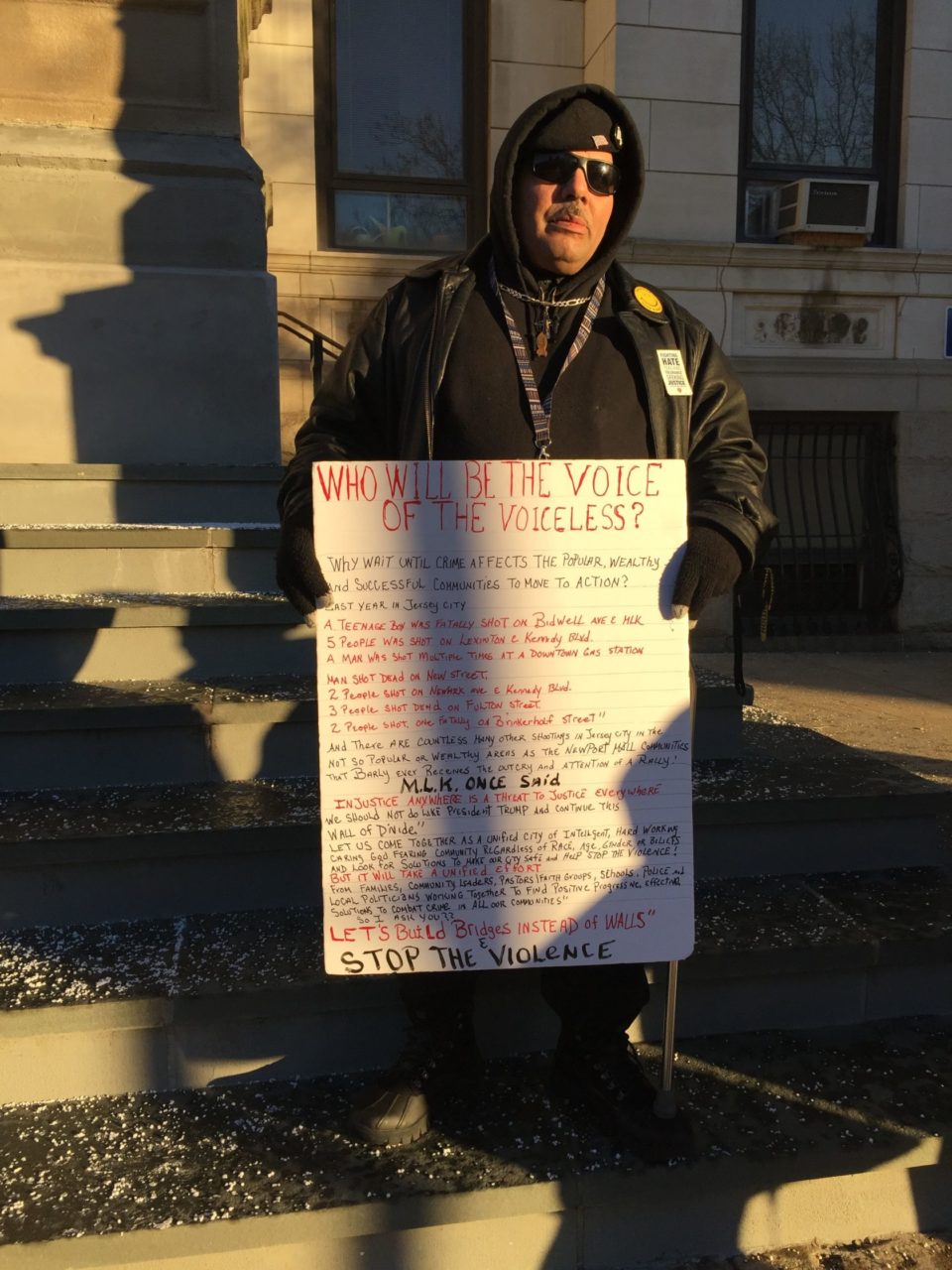 I don't believe they should be just another number to the statistic or for their lives to be reduced down to a hashtag. Below are their names:
Judane Holmes, age 16
Leander Williams, age 17
Jade Saunders, age 17
Jayden Founder, age 17
The Friday of the Newport shooting, current, and former student leaders were in the mall. Jai Patel, the founder of the organization, was inside shopping. The social media leader, yours truly, was simply working. Jai previously shared his story on the blog. Before I share mine, let me explain how immediately after the incident, Jai and the amazing student leaders started planning for Monday's rally. We don't waste time.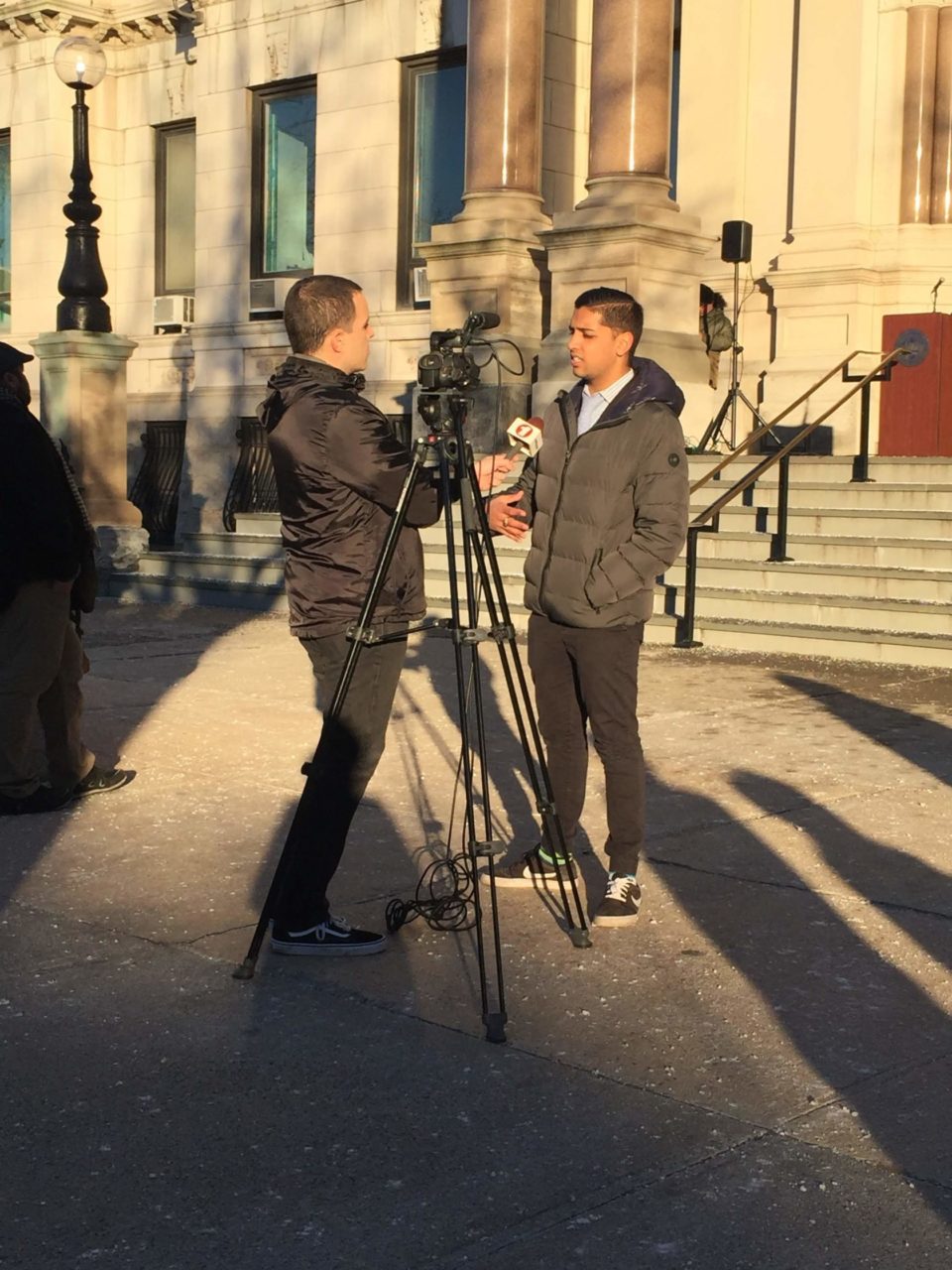 We have a group chat where we all discuss what we need for the organization. We all made sure we were okay before diving into the logistics of Monday. In a short amount of time, we needed to put together something for the community to have an open discussion about something we're all a little too afraid to speak about: the daily violence in this city.
On Friday, we confirmed the day. Saturday, we got the title and flyer. Sunday, we promoted as if our lives depended on it. Monday, it all paid off.
The second I arrived, I saw a lot of reporters waiting to hear from us. People in the community came with posters. Councilpeople came out. Mothers came. Students stood alongside us.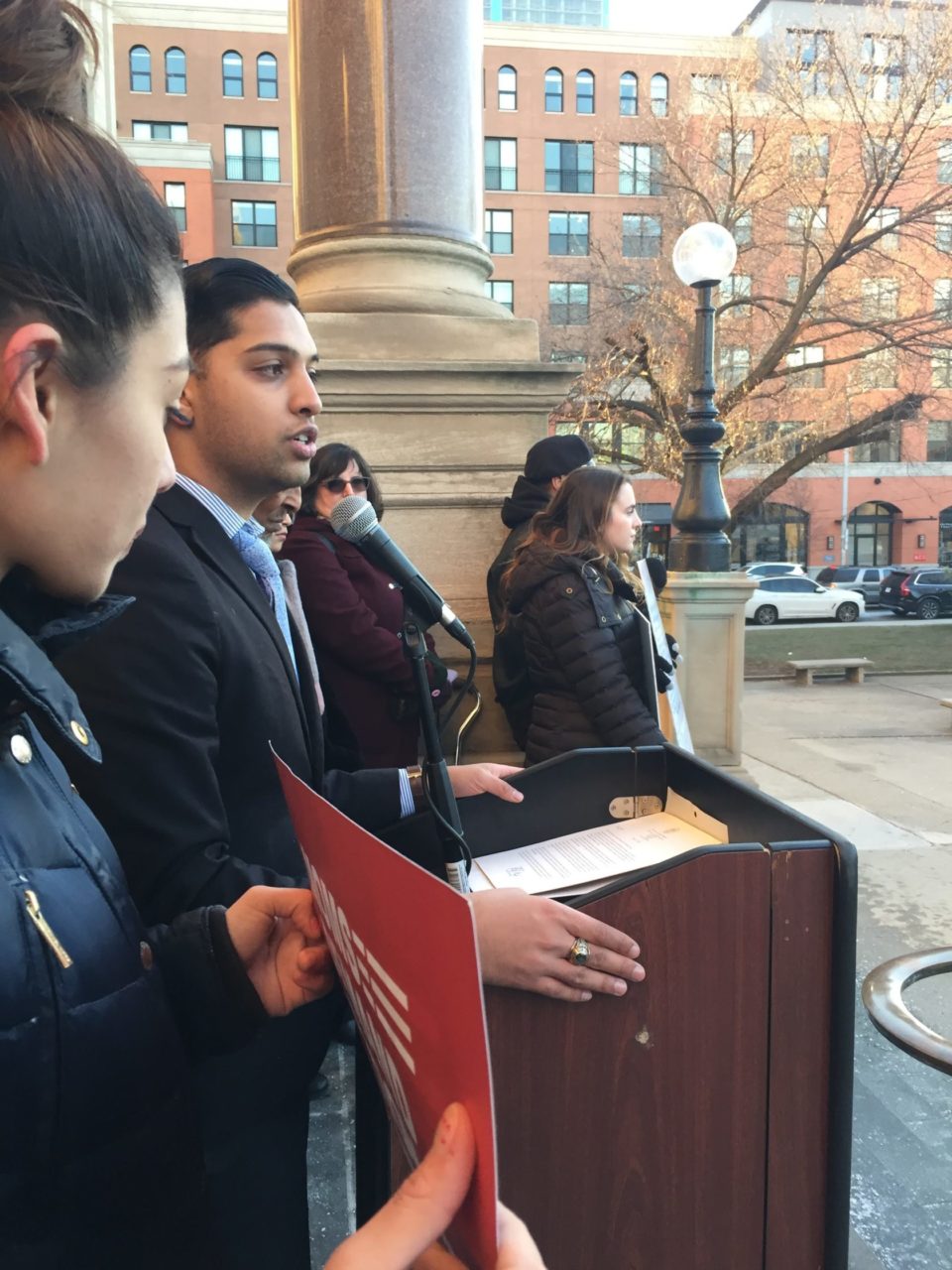 Jai started us off. He shared his story of that evening as well as addressing that he doesn't see himself as a hero or a survivor of the situation. He also said that no one will. We turn a blind eye to the gun violence that happens to the south side of the city but as soon as the same thing happened to Downtown, everyone decided to come together to address the gun control problem we have in this country.
Newport Mall made national news… the shooting that happened right in front of my little sister's middle school didn't.
Next on the mic was our new student leader, Arlette Huesca. She spoke about the statistics on our community and how it is our job to make our environment better.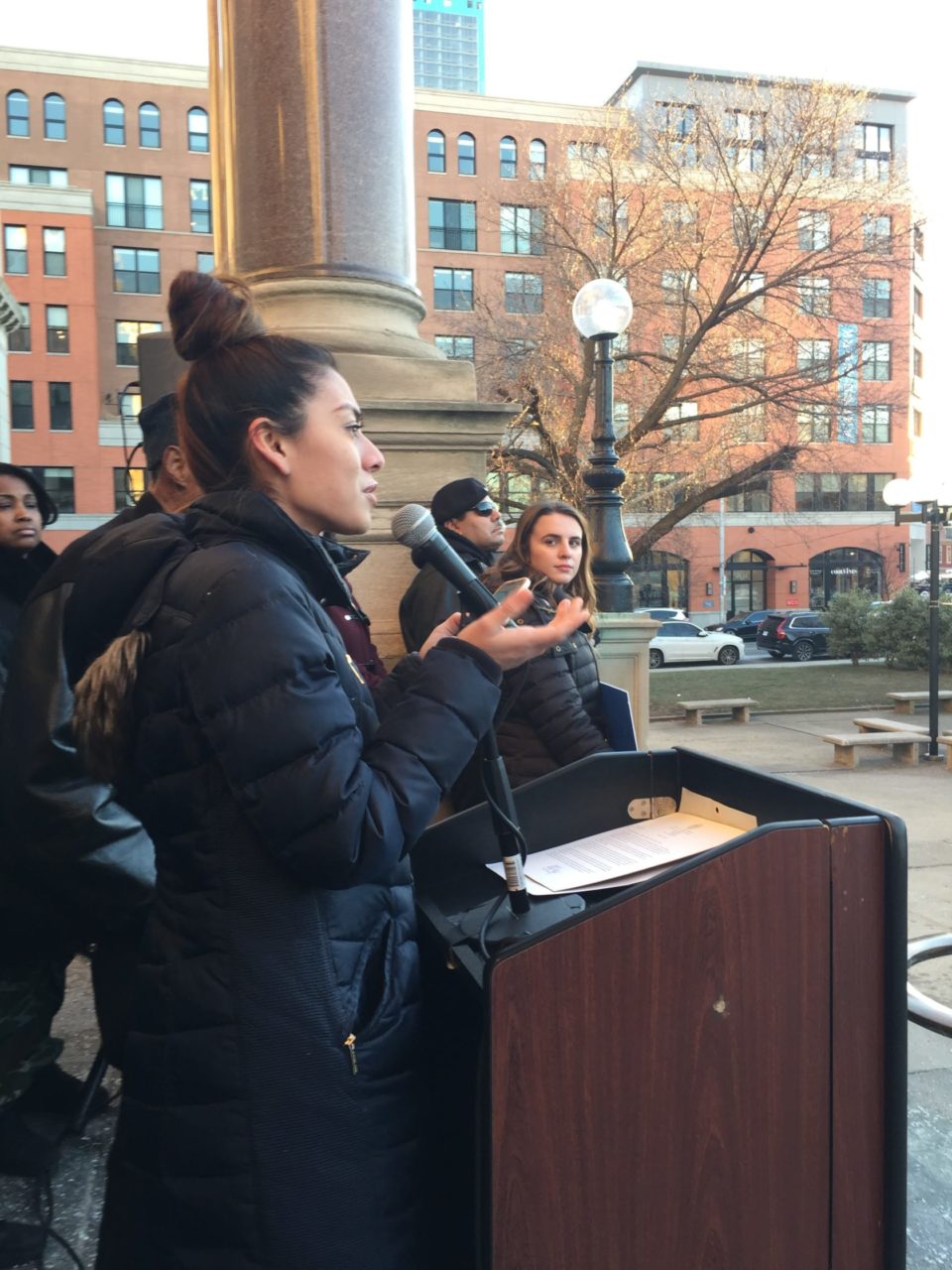 Following Arlette was our new membership leader, Isabell. Her speech was the kind of speech that you can feel in her voice. She was present when the Black Friday shooting happened last year in Jersey Gardens Mall. She spoke about her experience.
Once our student leaders spoke, a series of other community activists were called to speak.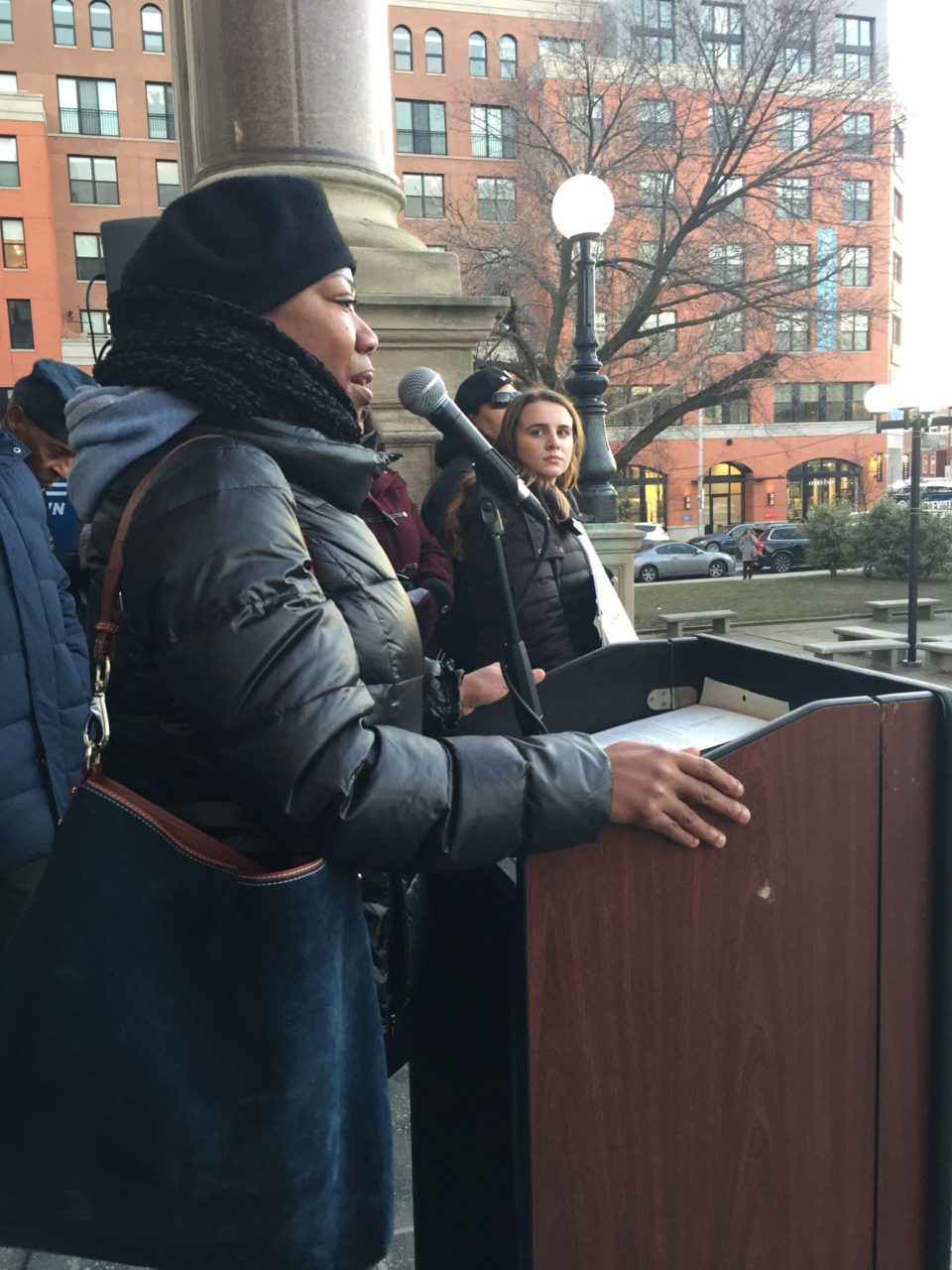 We concluded the afternoon with a march around City Hall. We marched 4 times for our lost friends in 2018. A lot of truth was said that afternoon, more of it to come at our next rally.
Personal Speech
Below is my personal speech. I share my story of what happened at Newport Mall as well as a message I hope inspires you…
Last week on Wednesday, my little sister was one wall away from a bullet when someone got shot in her school courtyard. I had an old friend tell me the horrific news 20 minutes before I got to work. I called my sister to ask if she's okay and responded with, "Yeah, why?" as if she wasn't less than 100 feet from a gunman. It was as if she was immune to the disease of gun violence this community faces. 20 minutes later, I clocked into my job at Newport mall.
Friday at my job was the worst day I've ever had at work. I was sampling out food until I saw something that normally I would laugh at. A woman running up the escalators as it was clearly going down. She fell as soon as she reached the next level. Then I saw hundreds of people running down the stairs from the 3rd floor screaming as I heard 2 gunshots fired.
The fear in their eyes was something you'd only see in a movie. The way law enforcement screamed for everyone to leave the mall was something you can't describe.
I went back into the store busting through the doors to open the back to let my manager know that there's a shooting going on upstairs. He called everyone who was on break to see if they're okay. Thankfully, no one at my job was hurt. Two of my friends who I saw earlier came knocking on the back door looking for a place to hide. My manager told everyone we're going to exit thru the back of the mall. Security told us we weren't able to leave yet. For a good 20 minutes, I tried calling my family. My mom rushed down to get me and my 3 friends up at Target right down the street. God willingly, we all got home safely to our families.
No one in this city who can read a newspaper goes to our schools, shops in our city, walks our streets can truthfully say that ours is not a violent city. I let fear silence me because that's the only thing I know how to do when I'm scared. It is 2019, I am living with the same mistakes that we left last year but this time, I am not silenced by fear; I am silencing the fear. I will not be quiet when my little sister could've been hurt. I will not be silenced when my friends could've been shot. I am damn sure I will not be quiet about a problem that everyone reacts to normally because there's nothing normal about teenagers dying.
We are not here to entertain you. This is a call to action. You cannot live in Jersey City and be neutral. If you're quiet, you're a part of the problem. To be a part of the solution, you need to do something. That something is whatever you decide. But do something.
---
Jai Patel
When recounting my experience of witnessing the shooting at Newport Mall last Friday, I forgot to mention what transpired in the hours after I had safely reached my home. I answered a flurry of phone calls and messages from concerned family members, friends, and colleagues. After everything settled down, I shut myself in my room and began to write the piece that spread like wildfire all across the city. I also immediately emailed the Cultural Affairs Office to fill out a Special Events Permit, because it was time for me to yet again organize another Rally. I immediately began planning the Rally by discussing logistics, speakers, and news coverage with my team over at Students Demand Action Hudson County. This Rally was not only to protest the recent shooting at Newport Mall, but to also bring attention to the Gun violence that plagues the Southside of our city nightly. This Rally was a Call to Action.
Monday was an exceptionally cold day, but the Rally would still be taking place. If I didn't go through with it on Monday, people would forget and we'd fall back into the same old cycle of nobody caring like we always do. Instead, I invited multiple Media Sources and a diverse amount of Speakers to ensure that this Rally captured every single facet of the gun violence Issue. When I took the podium, I made a speech that addressed the gang violence in this city. However, one line out of my entire speech was later taken out of context by a local reporter. The article used the quotation and stated that I was threatening gangs in this city by letting them know that they do not have home in our city. But I know better than to be that insensitive.
Young people from lower socioeconomic backgrounds join gangs for various reasons including: protection, a sense of family they never had, and peer pressure. I understand the systemic and economic issues that plague the Southside, which is why I work so closely with activists like Pam Johnson. Working with her has taught me that we must also pay attention to violence on the Southside like we do when a shooting in Downtown happens, like the one at Newport Mall. News stations do not make a frenzy to dash to the Southside to cover stories, and we as a community have left that area to fend for themselves.
I am not from the Southside. I won't even pretend to understand what it means to be in a gang. It's hard for me to relate to you. I get it. However, more people like myself need to step up. I am a McNair Academic Alumni from a part of the city that sees virtually no crime. But I still work with Community Activists, Local and State Politicians, and my fellow students to stop gun violence in our city. It is time for Downtown to join the conversation of gun violence because we are all from Jersey City. The segregation and isolation of different socioeconomic groups has left some with the reality of making six figures and others fearing for their lives every night.
I can assure all of you that I did not write my previous piece or this one for clout or fame of any kind. Many believe that writing my account of the shooting so quickly was in poor taste. WAKE UP. People will stop caring. Be it in a few months or few seconds, people will not care about gun violence until the next mass shooting captivates their attention. I keep referring to the Newtown Massacre because it showed the country the true colors of our elected officials. The grieving parents of the children massacred for no good reason, watched closely as legislators failed to support and pass the Universal Background Checks bill they had advocated so closely for. Since then, we have seen shooting after shooting with no type of response from Congress. Something had to happen in Downtown Jersey City for the majority of us to wake up and say, "Jersey City has a gun violence problem." Are gun violence and death the real Jersey City?
It is important that you know that just because you are not from the Southside, does not mean you cannot make comments to help better the area and save America's future. Hardly anyone reading this attended Marjory Stoneman Douglas High School, yet we all had an opinion and felt emotion in regards to what happened there on February 14th. You do not need to experience gun violence on an everyday basis to help end it. That is a myth. The more people step up and join the fight, the closer we get each day to winning. Support activists like Pamela Johnson, Steven Campos, and Michael Griffin. Help the JCPD by sending in Anonymous Tips if you know that a shooting is going to occur. Talk to mentors, teachers, friends or activists if you or someone you know is thinking about joining a gang. Community Engagement, Unity, and Love. That is the Real Jersey City.
P.S.
Through a combination of lazy reporting and boring writing, the issue of gun violence in Jersey City in the media has no voice. There is no one who will paint the real pain and suffering these families go through. Until now. Stay tuned for an investigative piece that not only elevates the voices of the Southside, but unites this city.