We've been on lockdown in New Jersey for over two months now and obviously the pressure to re-open the state, country and economy is intensifying. But is it too soon? Social distancing is absolutely working in stopping the spread of the virus and I think many will agree with me that there is fear our state is peeling back the near lockdown orders too quickly.
As the cases are clearly dropping, and things are looking positive, could we be outdoing all that we have by easing things up? or are we good to go? time will tell.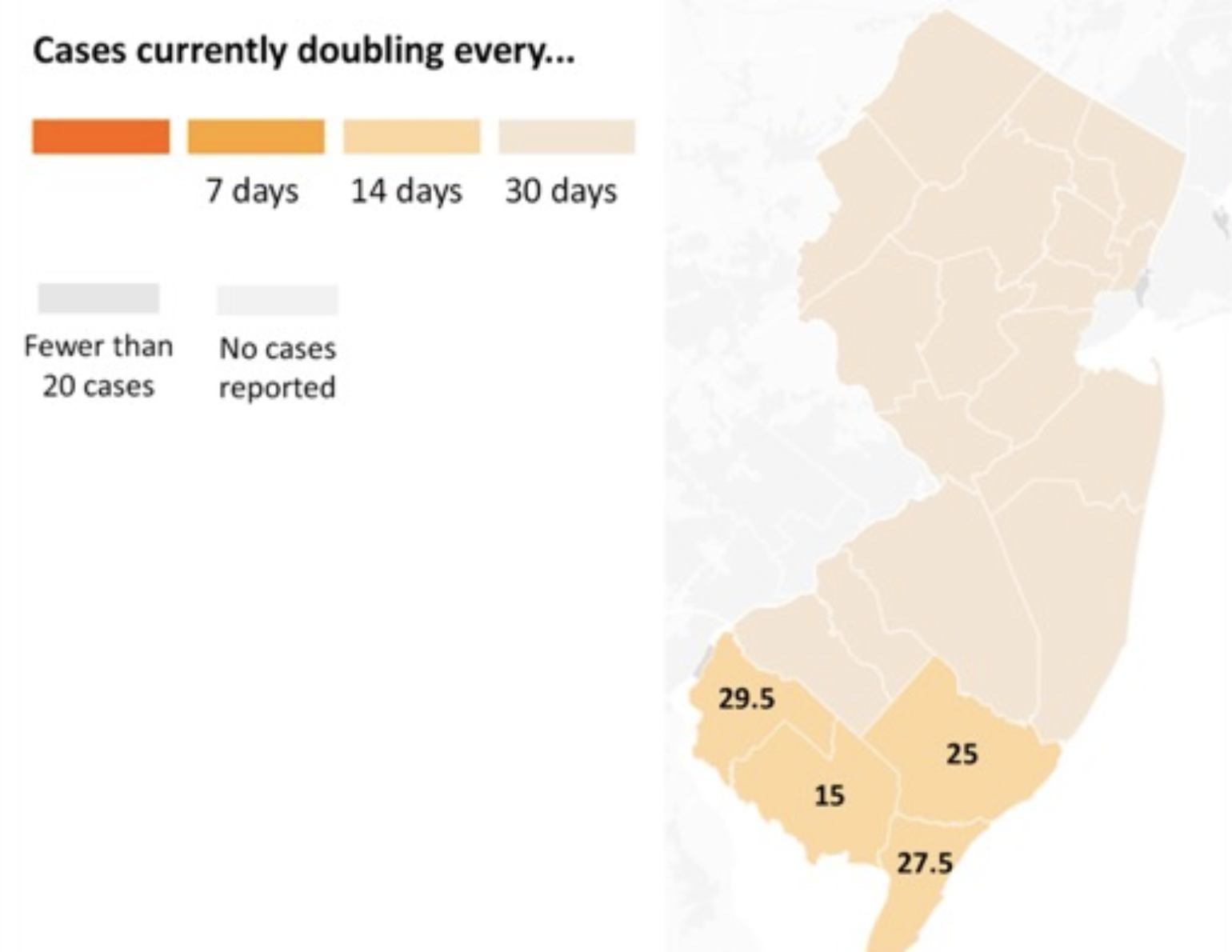 I am the first to say that I am itching to go to the beach, but can we trust humans to listen to the rules? To socially distance? to wear masks?  From what we've seen in the last two months, the answer is meh. Yesterday I received a few videos from followers who were at the beach, some were saying that people were sorta following the rules, and another person sent me a video of a SUPER crowded beach in Belmar, that prompted her to leave… I'll just sit in my appartment for a little while longer.
Other than my contradicting feelings around the beaches opening, there's been some new positive developments that I think are "safe" and exciting. Let's recap the top 8
1- NJ Re-Opening Beaches
As mention above Gov is allowing beaches, boardwalks, lakes, and lakeshores to remain open with social distancing measures in place. YES BATHROOMS WILL BE OPEN.
"To limit physical interactions, the Order requires municipalities, lake commissions, private club associations or entities, and other local government to implement reasonable restrictions, including:
Imposing non-discriminatory capacity restrictions;
Requiring that members of the public practice social distancing;
Developing and implementing lifeguard training and beach operation plans that address COVID-19 considerations;
Removing, taping-off or otherwise blocking all benches and tables;
Prohibiting the tying together of boats to prevent group gatherings;
Developing and implementing a continuous public outreach campaign, including signage, social media, town and county websites, mobile device applications, radio, and banner-plane advertising;
Prohibiting special events such as festivals, concerts, fireworks, and movies;
Prohibiting all organized or contact activities or sports;
Limit occupancy in public restrooms; and
Implementing sanitization protocols.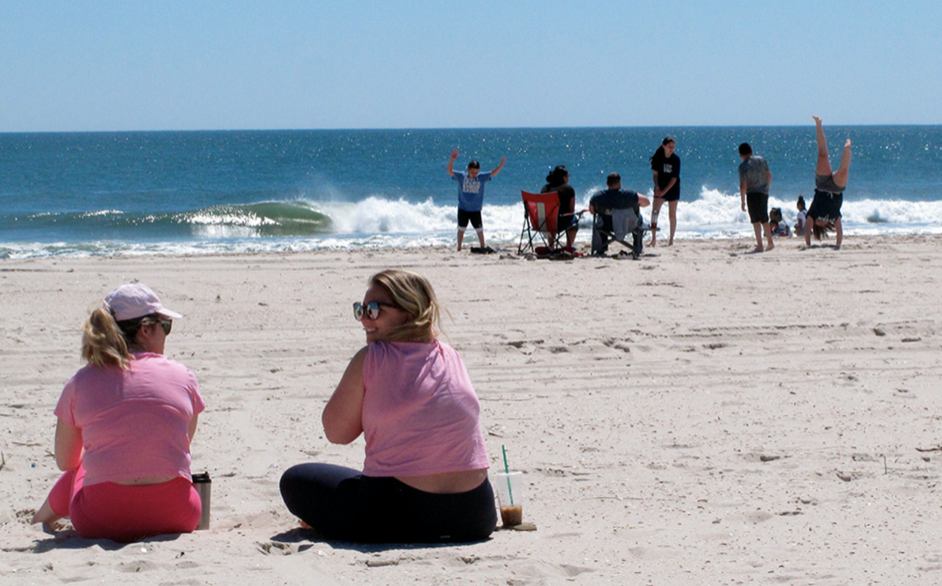 2- To-Go Cocktails Are Now Legal
Last week I was pushing a petition that was started by the awesome folks at Cellar 335 about legalizing the sell of t0-go cocktails in NJ. After just a week of this petitions circulating the Bill was passed yesterday. Just in time for the weekend. Amazing.
"Governor Phil Murphy today signed legislation (A3966), authorizing the sale and delivery of alcoholic beverages by the holders of certain retail consumption licenses and concessionaire permits during the COVID-19 state of emergency.
Under the bill, the holder of plenary retail consumption licenses, hotel or motel licenses, seasonal retail consumption licenses, or concessionaire permits, generally issued to bars and restaurants, would be permitted to sell and deliver alcoholic beverages in original containers or in closed and sealed containers and mixed cocktails in closed and sealed containers for consumption off the licensed premises during the state of emergency"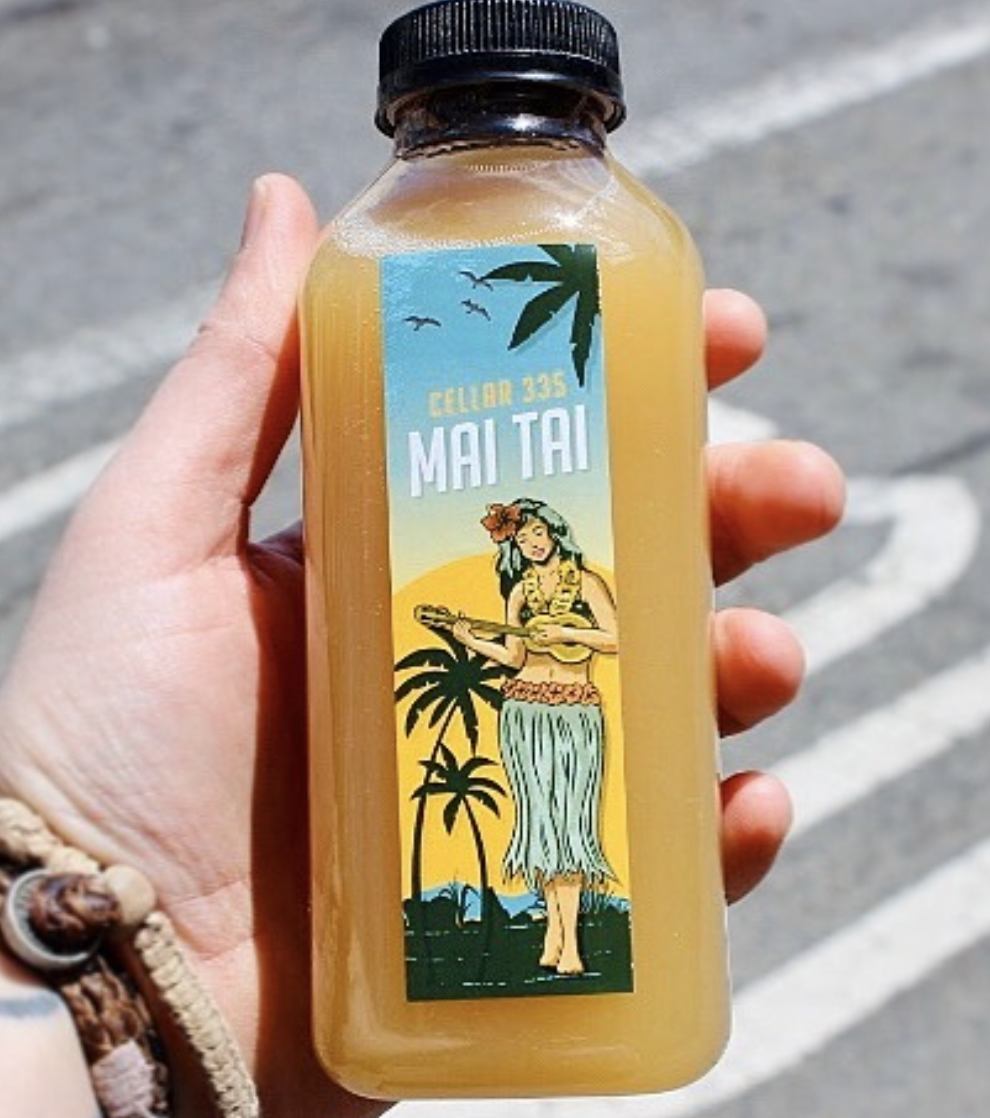 3- Non-essential businesses can open for curbside drop-off starting Monday
I think this is a really positive step for small businesses to re-open and adjust their business model to fit this "new normal"
"The Order also permits non-essential retail businesses to allow curbside pickup of goods, beginning at 6:00 a.m. on Monday, May 18, but businesses must continue to have their in-store operations closed to customers.  Businesses who choose to offer curbside pickup must abide by the requirements in the Order, which include but are not limited to the following:
In-store operations should be limited to those employees who are responsible for the operations required for curbside pickup;
Customer transactions should be handled in advance by phone, email, facsimile or other means that avoid person-to-person contact;
Customers shall notify the retailer by text message, email, or phone once they arrive, or make best efforts to schedule their arrival time in advance.  The customer should be asked to remain in their vehicle, if arriving by car, until store staff delivers the purchase;
Designated employees should bring goods outside of the retail establishment and place goods directly in a customer's vehicle when possible, avoiding person-to-person contact; and
Such businesses must follow social distancing and mitigation practices outlined in previous orders, including requiring workers to wear cloth face coverings when in contact with other workers or customers and gloves when in contact with goods or customers.
4- Non-essential construction will resume
No comment on this one….
"The Order permits non-essential construction projects to resume effective at 6:00 a.m. on Monday, May 18. All construction projects must abide by the social distancing, safety, and sanitization requirements that are described in detail in the Governor's Executive Order"
5- Drive-in and Drive through events including drive-in movies and religious services
It's like the 60s again. Where is there a drive-in around here? or drive through safaris and farms? Can someone let me know?
"The Order states that car gatherings do not violate the Governor's ban on gatherings under Executive Order No. 107.  Examples of such car gatherings include but are not limited to drive-in movies, religious services, or drive-through farms or safaris.  Car gatherings will be subject to the restrictions in the Order, which include but are not limited to the following:
Attendees must remain in their same car throughout the gathering, unless 1) an occupant needs to get out of the vehicle for their health or safety or 2) an occupant needs to use the restroom;
The vehicle must remain closed at all times unless 1) there is six feet of distance between other vehicles or individuals or 2) an officer, public official or guard requires the vehicle to open. There is a further exception allowing the opening of the vehicle if necessary for health or safety;
Individuals organizing the gathering who are not in vehicles must follow social distancing and wear cloth face coverings; and
To the degree that a gathering requires pre-payment, or seeks donations of any kind, contactless options for pre-payment or donation, such as online or by telephone, must be offered wherever feasible.
6- Hospitals to allow one loved one/doula/support to accompany women during childbirth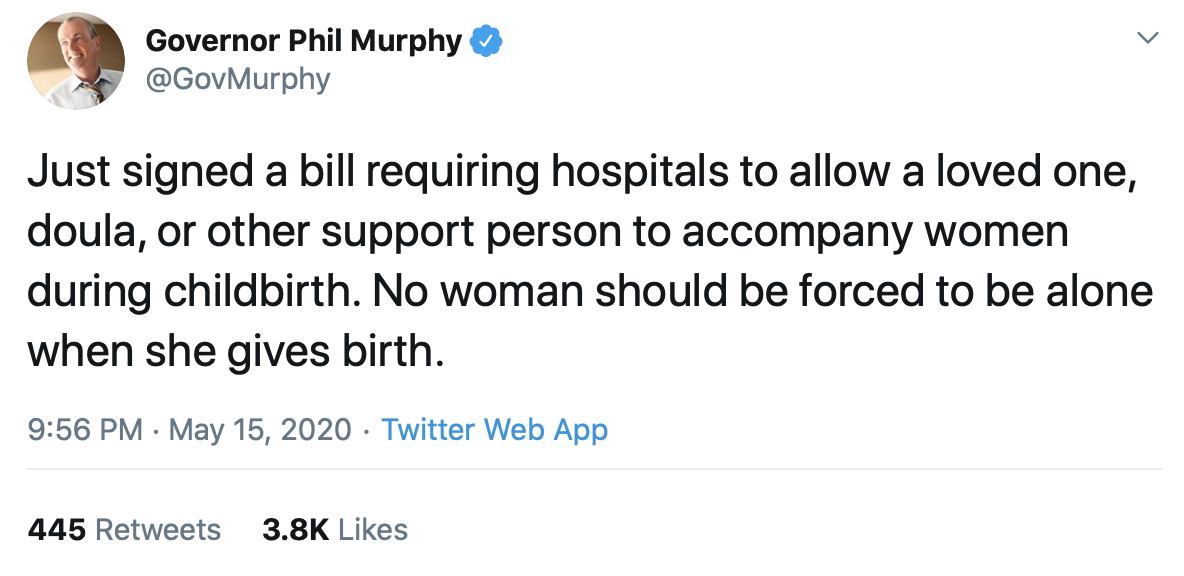 7- New Jersey is now a vote-by-mail state ahead of the July 7th primary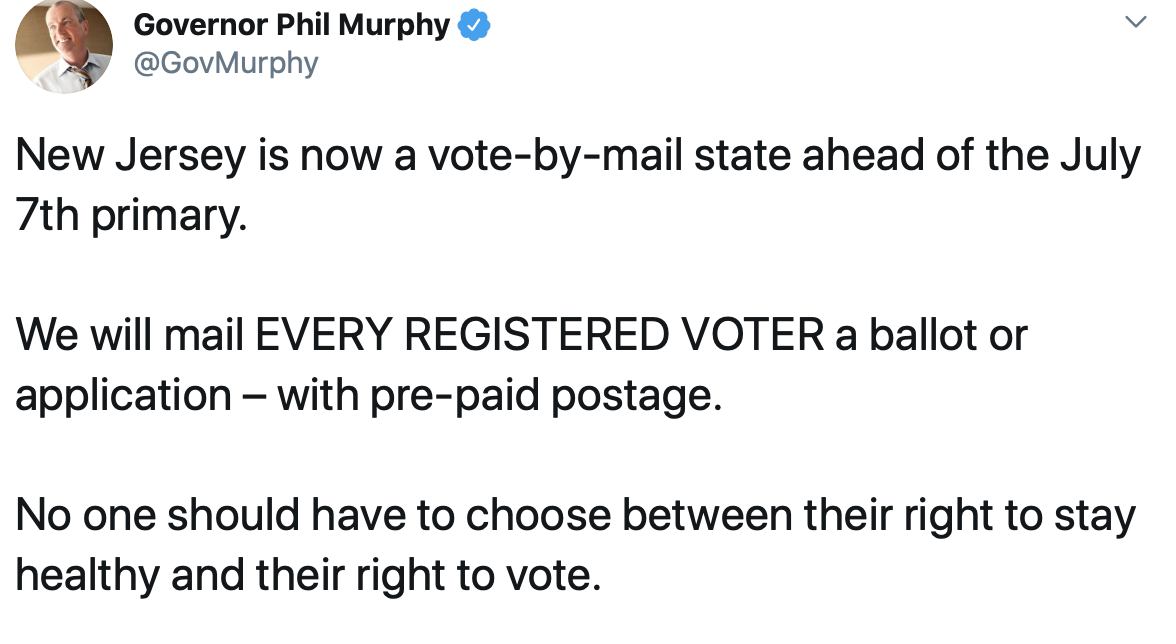 8- The resumption of elective surgical and other invasive procedures – effective May 26th.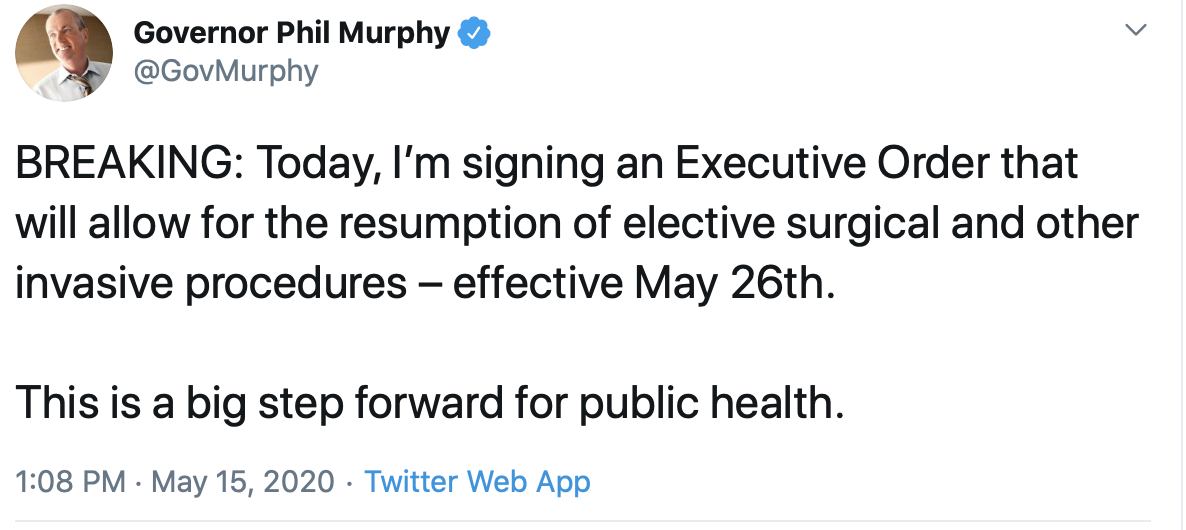 9- Next up: Pools and chartered fishing can operate as Memorial Day approaches