Every week, we are highlighting 5 local businesses you can support during this time!
Check out our Local Businesses tag to see our previous highlights! If you are a local business that would like to be included, please email editor@chicpeajc.com.
CKO
Bio + how to support: Charles "Charlie" Taylor has been a competitive athlete for over 20 years, earning numerous titles on both the national and international stage in Olympic Style Taekwondo. Since training under Olympian, Master Kevin Padilla, since 1992 – Charlie has been surrounded by top level athletes his entire career. In 2004 Charlie fought his way into a spot on the New York State Taekwondo Commission (NYSTC), an organization designed to mentor and sponsor top athletes for international competition. Here Charlie competed in numerous countries representing NY-USA during his bouts. Since his arrival to NYSTC he defended his spot on the team throughout the remainder of his career as a fighter.
Simultaneously, Charlie served as an instructor at Padilla's Sport Taekwondo School, where he taught Traditional & Olympic Taekwondo, Cardio Kickboxing, Boxing and mentored a number of elite junior athletes. While there, he developed a love for coaching and formed a unique style, drawing from years of training and applying his fighter's mentality.
After a 10-year career in the corporate security world, he returned to his passion. Currently based in NY Metro Area – Charlie is the owner/operator of two CKO Kickboxing Clubs located in Bayonne and Downtown Jersey City. He is also the owner and director of operations for Prosper Private Training also in Downtown Jersey City. Charlie wears several hats, but his favorite, is that of fitness coach and motivator. Charlie has a fun but no nonsense approach to supporting his members goals.  Whether you're aiming to improve your striking technique,  build lean muscle, improve your strength, compete in ocr/marathons, or improve your overall wellness – Charlie and his team can certainly get you there.
When you don't see Charlie pumping up a packed class of motivated kick-boxers or carefully observing  a clients form, you can find breaking a sweat on the mat with everyone else. He is a true fitness professional who passionately cares about his member's success. Charlie tries to instill a fighter's mentality within all of his clients, because whether you're in the ring or not – if you refuse to quit on yourself and continue to fight, there's no limit to what you can achieve. He lives in Jersey City with his pitbull, Bigguy.
How to support:
We want to offer 2 free weeks of our home workout to all ChicpeaJC followers. Asking for $25 monthly donations after to support the trainers, who live off CKO. We also have a weekly free 15-min workouts on the gram and our IG Live interviews with other wellness professionals on staying healthy during quarantine.
We continue to partner with local restaurants to feed our health care workers (current partners, Hudson Hall, Whealth) and are raising funds on GoFundMe.
Where to find them:
@Charlie.KO
@CKO_AT_HOME 
@ckojerseycity 
@ckobayonne 
@prosperprivatetraining
Amiya
Bio + how to support: Amiya is a contemporary Indian restaurant located in Exchange Place, Jersey City. For the past 15 years, Amiya has proudly served the residents of the greater JC area, from corporate workers coming into lunch to customers hosting their first baby shower, and has elevated the narrative around Indian cuisine. Given the COVID-19 crisis, Amiya has had to close for the past month to ensure the safety of the staff; however, Amiya has recently reopened offering Take-Out and Delivery services.
Where to find them:
Website: www.amiyarestaurant.com
Instagram: @amiyarestaurant
Facebook: Amiya Contemporary Indian Cuisine
Personal stylist LaVaughn Michelle
Bio + how to support:
Image consulting isn't only for celebrities or VIPs. Now everyone can benefit from this specialized knowledge from an expert. If you have an important interview coming up, or you're going away for a weekend business trip, I can help you look your best. And when you look great, you feel more poised, relaxed, and confident. It's a recipe for success. Completely revamping your style might seem like a daunting task. I am completely committed to helping you and your appearance achieve new heights. My passion is fashion and I want to share it with you! With over a decade of experience in luxury styling in NYC at Bloomingdales and Saks Fifth Avenue, I'm here to help you feel your absolute best while saving you time and money. My process will help you discover what looks best on you and is guaranteed to work. Even if you think your current style is hopeless, together we can put together a look that's perfect for you!
There are several misconceptions surrounding personal styling. Many assume that a stylist will come into your house, throw out all your clothes, and insist you wear something uncomfortable or far out of your comfort zone. Thankfully, this couldn't be further from the truth. Instead of having the stylist make all the decisions, you'll get to engage in a fun, productive, and informative closet analysis. With a closet analysis, we will be going through your items together and evaluating your wardrobe. For many clients, the "closet edit" provides a great way to sort through what you need, what you want, what you should add, and what you should subtract. We then curate outfits customized for your lifestyle, integrating what you already own. Finally we make a list of what is missing from your wardrobe and schedule personal shopping trips to fill in the gaps.
The goal of a great stylist is to accommodate your lifestyle, magnify your best features, and elevate your current look. With me, you'll be introduced to new and interesting pieces that are fine-tuned for your tastes and goals. A wardrobe that is simple, and full of looks that are ready to wear, saves your time. It should never be the mission of a stylist, or anyone, to change who you are. You want to show off who you are with some amazing looks you can wear out on the town, to the office, and beyond.
Where to find them:
If you're interested in LaVaughn's services, have any questions, or would like to review rates and book a consultation, please contact by phone (518) 812-4704, or by email at LaVaughnNYCstylist@gmail.com
Website: www.lavaughnmichelle.com
Instagram: @lavaughnmichelle
Small business shoutouts:
Love Locked @353 Grove Street.  Amazing staff with an awesome assortment of small designers.  I love the diverse price points and can always find great fill in costume and fine jewelry items for my clients. Also Kerri is amazing and can custom make almost anything.
Another Mans Treasure Vintage Store @195  Montgomery St. Awesome Vintage collection that are fun for added character to any closet.
Decarlos @150 Bay Street.  One of the best luxury tailors around with incredible service and craftsmanship.
Candy Shop Skate Collective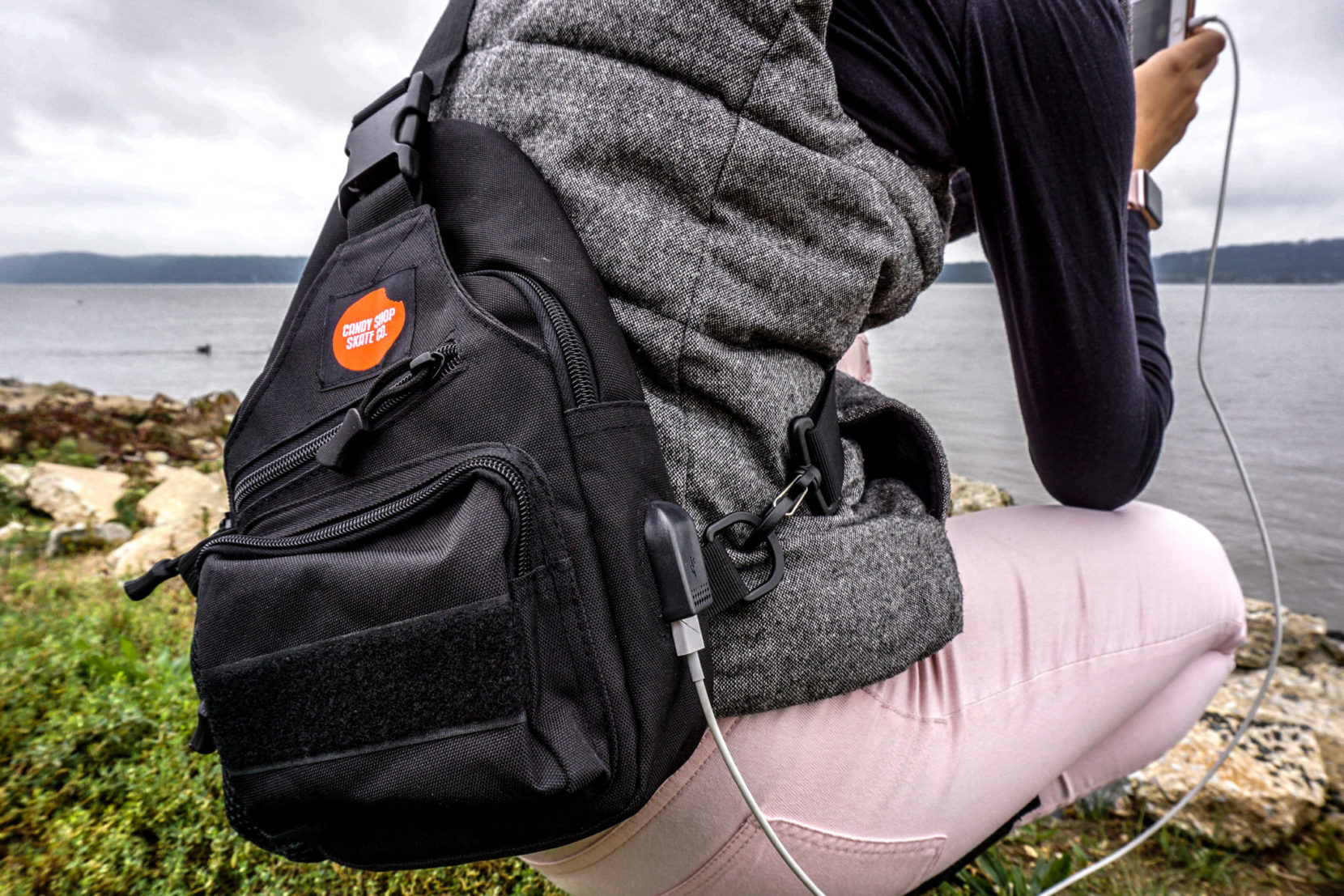 Bio + how to support: The Candy Shop Skate Co. is a skateboard and streetwear brand that has been on and off again since 2016 in Jersey City. We've been around since 2004, providing people with low-cost skateboards, men and womenswear, accessories, and everything in between!
Our Lovely Eyes crewneck and t-shirt were done in collaboration with an artist we love and adore. A portion of every sweatshirt and shirt sold from that collabo goes to her. All of our other profits go back into making affordable gear for the masses. We would also like to provide prizes and support for when Berry Lane Skatepark finally opens up.
Where to find them:
Website: http://www.candyshopskateco.com/  
Instagram: candyshopskateco
Small business shoutouts:
NJ Skate Shop over on Monmouth St is awesome and a great place to get some "I gotta rep New Jersey" gear.
Cellar 335 is a great place to get down, literally, as they're located in a very funky, yet sophisticated basement. The word "sophisticated" will be impossible to spell after a few bangin' tiki drinks there.
Jersey City Kickboxing is the best place on the eastern seaboard to not only burn off all those justified tiki cocktail calories but learn how to defend yourself next time you're in Boston and people recognize your Jersey accent.
Delenio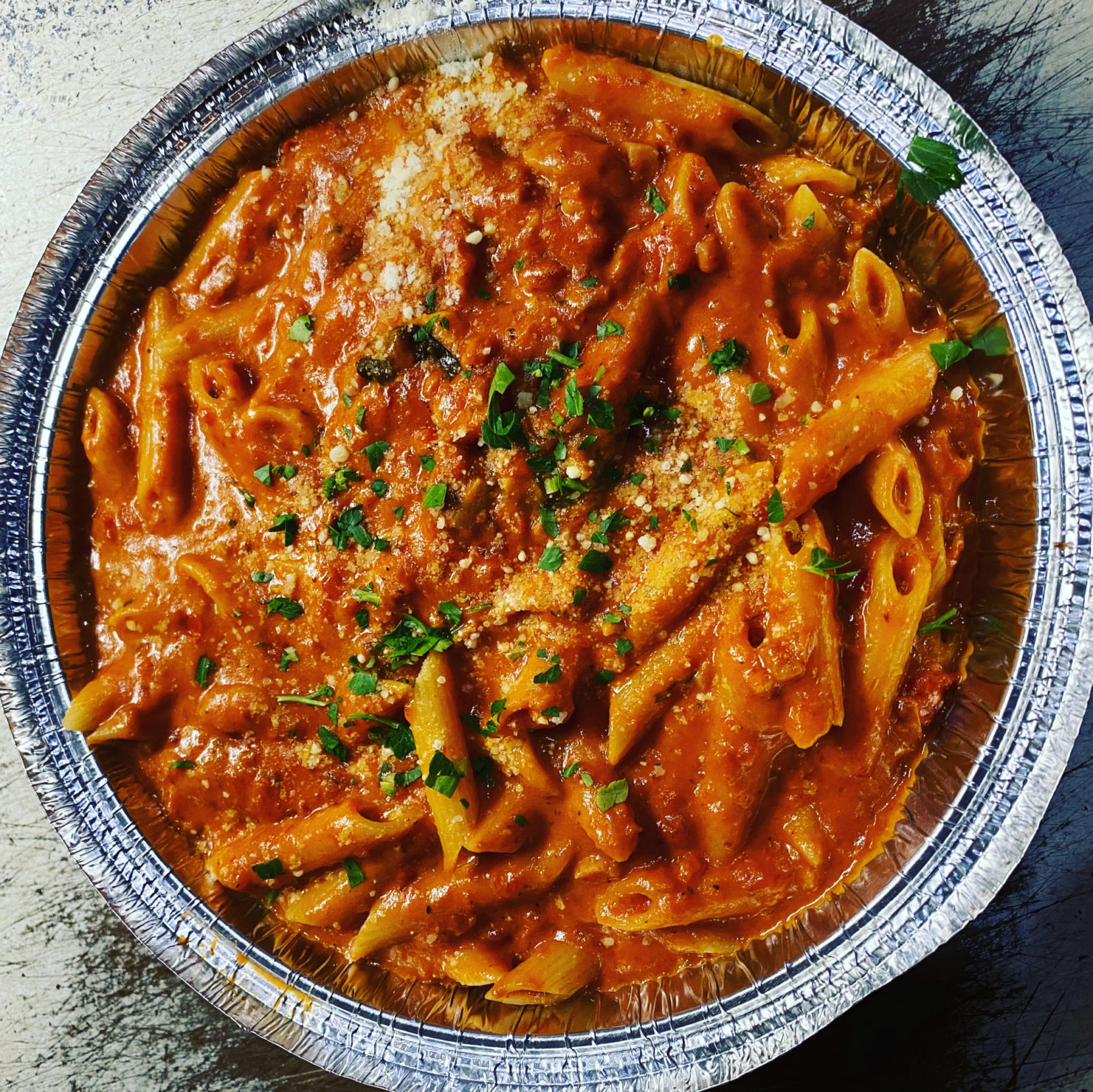 Bio + how to support: Delenio is a Jersey City Italian restaurant serving up pizza, wraps, dinners, and more located at 357 7th St. They are currently open for takeout and delivery 7 days a week. You can order on their website for 10% off your order or call for free delivery.
Where to find them:
Website: deleniojc.com
Instagram: @Delenio.italian.eatery